8 Genius Ways to Turn Leftovers Into Lunch
Make last night's dinner today's lunch.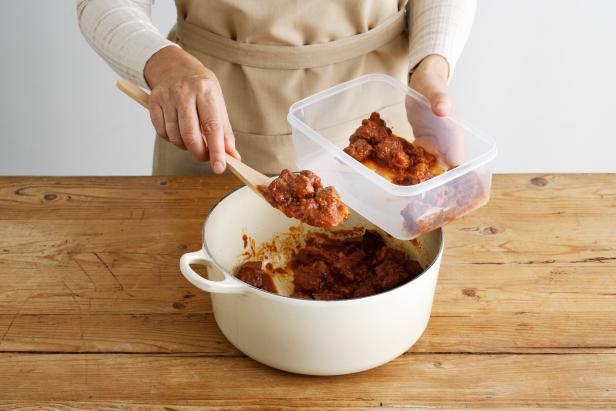 Leftover Dinner
"My work from home lunch has actually been just leftovers from dinner!" exclaims KeyVion Miller RDN, LD/N of The Miller Kitchen. "Since I have more flexibility with my time I make sure we have a healthy meal in the fridge which usually consists of a lean protein, vegetables and healthy carbs. I don't mind being in the kitchen at all but that doesn't mean that I want to "cook" something every time I get ready to eat. Not to mention the fact that I have 30 minutes for lunch not an hour so leftovers for lunch is perfect!"
BRETT STEVENS; Getty Images
By Leah Brickley for Food Network Kitchen
Lunch is an opportunity to spruce up leftovers. Here are eight ways to tap into your savvy and thrifty side, and transform leftovers into the perfect midday meal.
Leafy greens will welcome just about any leftover protein — like chicken, pork and beef — and veggies cooked any which way. For a more unexpected salad upgrade consider piling your salad on a slice of reheated pizza or cut that slice into small squares for pizza croutons. Or add a handful of leftover rice or beans to bulk up your salad.
Random bits of leftover protein and veggies slip easily into any quesadilla. Make it more interesting with a filling of leftover mashed potatoes or a couple spoonfuls of chili. Leftover meatloaf and pot roast are also winning fillings.
Speaking of meatloaf, a cold slice — or a couple leftover meatballs — fit perfectly into a BLT. Day-after pork chops (with bones removed) sandwich nicely with lettuce, tomato, cheese and Dijonnaise (Dijon mustard + mayonnaise). And leftover BBQ ribs can also be deboned and piled high with coleslaw and potato chips for a creamy and crunchy sandwich.
Any flatbread (think pita, naan and English muffins) can be baked into a leftovers lunch. A spread of pesto, slices of steak, mushrooms, onion and cheese make a steakhouse-inspired flatbread. Or try BBQ sauce, leftover pulled pork, pickled jalapenos, corn and Cheddar. And chunks of yesterday's fried chicken with pizza sauce and mozzarella makes a chicken parmesan-esque flatbread in no time.
Get Into a Grain Bowl Groove
Grains bowls are a perfect way to move leftovers — including soup. Start by heating up a 1/2 cup of soup then add a heaping cup of cooked grains. Then, top with cheese — maybe even a fried egg — and drizzle of extra-virgin olive oil or a spicy condiment like harissa.
Got leftover rolls or garlic bread from last night's dinner? Turn them into a meal. Cut into chunks and bake in a 350 degree F oven until lightly toasted. Mix-ins are limitless: olives, cheese, herbs, hard-boiled eggs, leftover proteins and veggies. Add a healthy glug of your favorite bottled vinaigrette and toss.
Frittatas are easy — they're typically eggs, dairy and cheese — and the perfect place to add leftovers. Especially pasta (any shape will work) with or without sauce: add about a cup of leftover pasta to your frittata custard. You can even chop up leftover lasagna or mac and cheese for other noodle-packed variations.
Picnics are the best way to bring together a bunch of random leftovers. Keep things room temp, toss together a simple green salad, add a hunk of cheese, olives, nuts, cured meats and some fresh fruit to the spread. You'll have a totally respectable lunch and more room in the fridge. (Outdoors and blanket recommended, but not required.)