Prep:

10 min

Cook:

25 min
Yield:

4 servings

Nutrition Info

Nutritional Analysis

Per Serving

Calories

489

Total Fat

16 grams

Saturated Fat

6 grams

Cholesterol

41 milligrams

Sodium

1577 milligrams

Carbohydrates

61 grams

Dietary Fiber

11 grams

Protein

30 grams
Prep:

10 min

Cook:

25 min
Yield:

4 servings

Nutrition Info

Nutritional Analysis

Per Serving

Calories

489

Total Fat

16 grams

Saturated Fat

6 grams

Cholesterol

41 milligrams

Sodium

1577 milligrams

Carbohydrates

61 grams

Dietary Fiber

11 grams

Protein

30 grams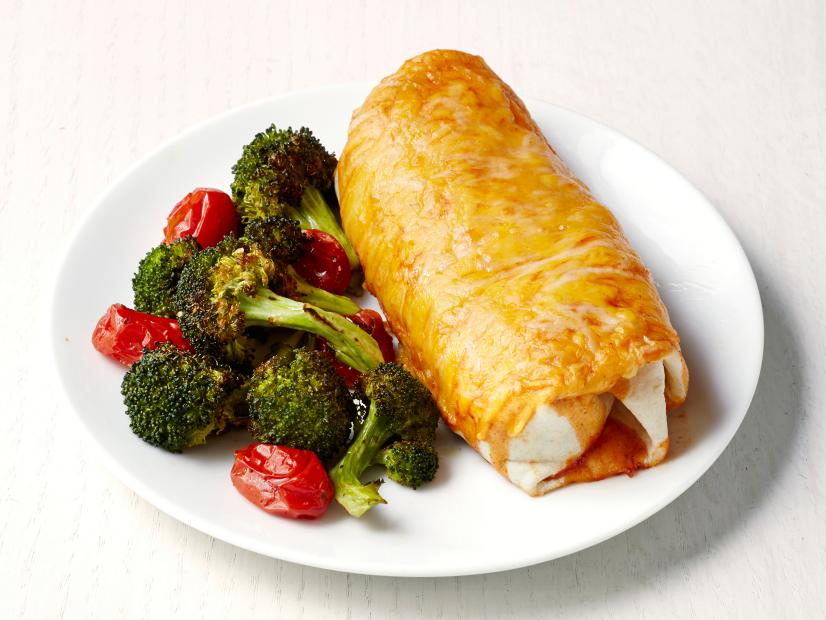 Preheat the oven to 425 degrees F. Toss the broccoli and tomatoes with the vegetable oil, 1/2 teaspoon chili powder, 1/4 teaspoon salt and a few grinds of pepper on a rimmed baking sheet. Roast, stirring occasionally, until tender, about 25 minutes.
Meanwhile, coat a nonstick skillet with cooking spray and heat over medium-high heat. Add the beef and the remaining 1 teaspoon chili powder; season with salt and pepper. Cook, breaking up the meat, until browned, about 4 minutes. Stir in 1/2 cup enchilada sauce, the beans and 2 tablespoons water. Simmer until the beans are soft, 3 to 5 minutes. Remove from the heat and add the cilantro.
Coat a small baking dish with cooking spray. Divide 1/4 cup cheese and the beef mixture among the tortillas; fold in the sides and roll up. Transfer to the baking dish, seam-side down. Drizzle with the remaining 3/4 cup enchilada sauce and cover with foil. Bake until warmed through, 12 minutes. Uncover, sprinkle with the remaining 1/2 cup cheese and bake until melted, 2 to 3 more minutes. Serve with the vegetables.