Level:

Easy

Total:

30 min
Prep:

10 min

Cook:

20 min
Level:

Easy

Total:

30 min
Prep:

10 min

Cook:

20 min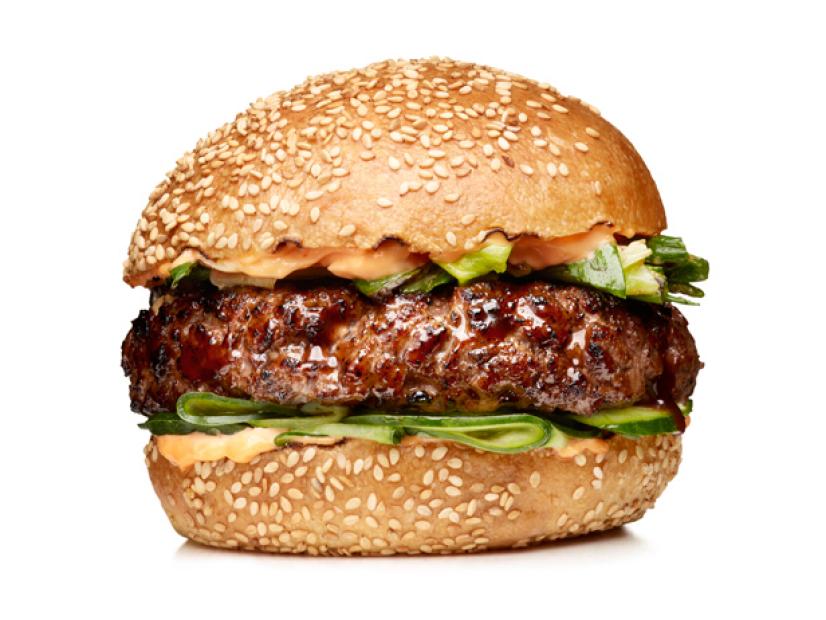 Preheat a grill to medium high. Form the beef into four 6-ounce patties, about 3/4 inch thick; press the center of each patty with your thumb to make a 1/2-inch-deep indentation. Season the patties on both sides with salt and pepper. Lightly brush the grill grates with vegetable oil, then grill the patties, indentation-side up, until marked on the bottom, about 5 minutes. Flip and cook until marked and slightly firm, about 3 more minutes for medium doneness. During the last minute of grilling, brush the patties with the hoisin sauce. Remove the patties to a plate and let rest 5 minutes.
Meanwhile, brush the scallions with sesame oil, season with salt and grill, turning occasionally, until charred and tender, 3 to 4 minutes. Cut into 4-inch pieces. Grill the buns, cut-side down, until lightly toasted, about 1 minute.
Mix the mayonnaise, Sriracha and sesame oil in a small bowl and spread on the buns. Top the bun bottoms with the cucumber, burger patties and scallions, then cover with the bun tops.