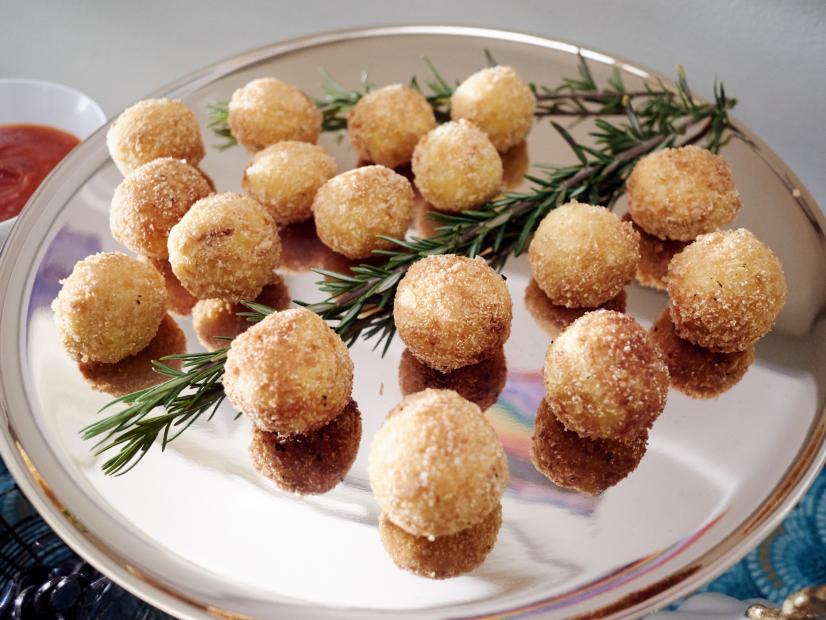 For the risotto: Puree the corn and Parmesan in a food processor until paste-like and almost completely smooth. Set aside.
Heat a 3 1/2-quart Dutch oven over medium-high heat. Add the olive oil and butter, and heat until the butter is melted. Add the shallots and garlic; cook, stirring with a wooden spoon, until soft and fragrant, 2 minutes. Add the salt and stir in the rice; cook for one minute. Deglaze with the wine and reduce the heat to medium; simmer, stirring, until the wine is almost fully absorbed. Stir in the chicken broth and rosemary; cook, stirring often, until the rice is tender but not mushy, 15 to 20 minutes. Stir in the corn puree.
Spread the risotto out on a parchment-lined baking sheet. Let cool to room temperature, then cover with plastic wrap and refrigerate until cold.
For the arancini: Set up a breading station with three shallow bowls. Combine the flour and salt in the first bowl; whisk the eggs in the second bowl; mix the panko and cornmeal in the third. Using a 1-tablespoon ice cream scoop, scoop a ball of risotto into the palm of your hand. Press a piece of chicken sausage into the center of the ball, then shape the ball to make sure it is completely covered. Roll the ball in the flour, then in the egg, and, finally, in the breadcrumbs, making sure the ball is completely coated. Place the arancini on a rimmed baking sheet and continue with the remaining risotto.
Fill a medium saucepan with 2 inches of oil. Heat over medium-high heat until the oil reaches 350 degrees F on a deep-fry thermometer. Fry the arancini in batches of 5 or 6, using a spider or slotted spoon to carefully lower the rice balls into the oil. Fry until deep golden brown and heated through, 3 to 4 minutes. Drain on a paper-towel-lined tray.
Serve warm with marinara for dipping, if desired.
For a shortcut, a can of creamed corn can be substituted for the corn puree. Just fold the Parmesan into the creamed corn and stir into the risotto.