Star Report: 9 Things That Happened on the Premiere That Got Us Talking
Relive the most-unforgettable moments from the premiere of Food Network Star, Season 13.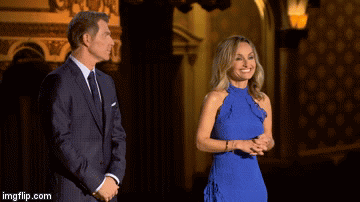 Season 13 of Food Network Star kicked off on Sunday night, and in true Hollywood fashion, the bright lights and lofty expectations of the big stage proved to be too much for a few finalists, who found themselves struggling through their auditions. But after the mishaps and missteps, we kept coming back to a few unforgettable moments. Relive them all with us below.
Alright, first things first. Matthew Grunwald is back — again — and he is psyched to be here. His giddy reaction at hearing the news of his Comeback Kitchen victory made us smile. But we're wondering if he has it in him to go the distance this time or if he'll end up #eliminated (again).
David is ripped. That is all.
Thankfully Toya, Trace and Matthew are OK, but this was clearly a doozy of a run-in. Take it slow, folks. The road to Stardom is a treacherous one.
When we see Jason, we instantly want to be friends with him. Like Amy noticed, his watermelon shirt is awesome. Plus, he says he likes to use "the Kentucky trinity, and that is bourbon, bacon and butter," and it turns out that those are a few of our favorite things too. Feed us please, Jason?
It's so refreshing to see a self-taught cook like Amy in the mix. However, she keeps noting her (lack of) professional experience, and we wonder if her self-doubt will ultimately get the best of her.
These two. We're calling it now: Trace and Addie are going to be FUN to watch. Their brother-sister banter is adorable, and to top it off, they have similar entertaining-focused POVs (though Addie doesn't want to admit that), so there's probably going to be a natural rivalry going on.
So, Rusty taught us a new phrase: "How ya 'dern?" It seems like only Rusty, in all his Southern glory, could deliver that line with such signature ease. It's stuck in our head after just one episode, but we won't hold that against him.
Maybe it's because we tend to have a dry sense of humor too (or maybe it's just because we're Beyoncé fans), but we're instantly drawn to Cao. Her POV is uniquely her, and the Vietnamese-inspired lettuce wraps she makes look so light and flavorful — sign us up for a few of those.
Blake struggling with his taco shells is all of us in the kitchen, at least at one point or another. We're chalking up his struggles to beginner's bad luck, because his ideas sounded good at least.