5 Fun Ways to Bake with Ripe Bananas
We're talking cookies, scones and (of course) banana bread.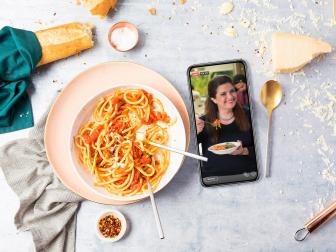 Download Food Network Kitchen to sign up and get access to live and on-demand cooking classes, in-app grocery ordering, meal planning, an organized place to save all your recipes and much more.
It's no secret that bananas are a great ingredient to keep stocked in your kitchen. If you don't eat them before they turn too ripe, you can always use the extras to do a little baking. And though we love banana bread (it is a classic, after all) we also love finding new and exciting ways to use traditional ingredients. That's why we've rounded up the most exciting ways to bake with bananas. From new twists on banana bread to feel-good cookies, these are the best recipes to go bananas over — and they're all available as classes on the Food Network Kitchen app!
Looking for a wholesome treat that still feels indulgent? Catherine McCord's delicious vegan cookies are made with just ripe bananas, pitted dates, oats, oil and chocolate chips. Thanks to the dates and bananas, these cookies are decadent and sweet without any extra sugar. Pro tip: If you're baking for someone with allergies, the cookies can easily be made with gluten-free oats and dairy-free chocolate chips.
Step up your at-home brunch game with Samantha Seneviratne's sweet scone recipe. She incorporates chocolate chunks and toasted hazelnuts into her dough, then sprinkles each scone with sanding sugar for a delicious crunch. Her advice? If your bananas ripen before you're ready to bake, remove the peels and stick them in the freezer.
Don't let the name fool you — even carnivores will love Alejandra Ramos' ultra-decadent banana bread. She uses pantry staples to whip up her chocolatey recipe, which she loves to eat as breakfast, dessert or a snack!
Looking for a cozy morning pick-me-up? Danielle Sepsy's baked oatmeal with surely do the trick. Blueberries and bananas become deliciously sweet as the oatmeal thickens and the sugar caramelizes. Her recipe calls for just one banana, so it's perfect for baking when the fruit bowl is just about empty.
Jet Tila never steers us wrong and his Best-Ever Banana Bread is no exception. He uses sour cream and butter to ensure that his loaf is extra rich and delicious, then takes the whole dish over the top with a swirl of melted chocolate. To ensure that your banana bread is the best in the business, Jet suggests using overripe bananas — the darker the skin, the sweeter the bread will be!