The Best Tip for Grilled Peaches This Summer
It's all in how you pick them.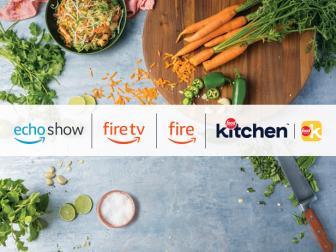 Download Food Network Kitchen to sign up and get access to daily live classes, thousands of on-demand cooking classes, in-app grocery ordering and so much more. Own a Fire TV, Fire tablet or Echo Show? You can now get a 1-year complimentary subscription to the app — read here for more details. Terms and conditions apply.
It's summertime and Elena Besser is "all about the peaches" this time of year. In her Grilled Prosciutto-Wrapped Pork Chops with Peaches class on the Food Network Kitchen App, she teaches how to take this delicious stone fruit and grill it to perfection.
Although we normally reach for juicy, just-ripe peaches for snacking, when grilling peaches you don't want peaches that are too ripe. Elena explains those perfect-for-snacking peaches can fall apart once they hit the heat. Instead, pick harder, less ripe peaches instead.
You'll find things can get a little tricky when trying to separate the peach flesh from the pit, but Elena has it covered. She uses a knife to "work around the pit" cutting the peach into wedges (about eight slices per peach) — we recommend watching her do it to become familiar with the process.
And finally, when you start to grill them, be sure to place the peach slices against the grates to get those coveted perfect grill marks.
Pick up more tips and tricks from Elena's class, including how to evenly season your pork and other fruit you can grill if peaches aren't accessible.