Fall Is Actually the Best Time to Eat More Vegetarian Meals
Goodbye, lettuce. Hello, sweet potatoes.
I consider myself very lucky to have a family that doesn't put up a fight at mealtime. Sure, there's the occasional meltdown over carrots (if even the tiniest shred finds its way onto my daughter's plate we're in trouble). But, for the most part, whatever I make for dinner is happily gobbled up. Most days I even get a thank you.
But, despite their easy-going nature, there is one thing that my family struggles to get on board with: vegetarian dinners. For my husband, it's the fact that he grew up in a Hispanic household where meat was considered an essential part of every meal. For my daughter it's her love of beef. And Italian sausage. And… OK, you get the picture.
The only time they don't seem to mind going meatless? October through February — because fall produce is hearty and satisfying and cold-weather cooking methods bring out the best in veggies. And, who can blame them? I'd take cinnamon-roasted sweet potatoes or crispy, oven-roasted Brussels sprouts over lettuce and cucumbers any day!
So, I've been serving up lots of chunky vegetarian chili, creamy butternut squash risotto and curried lentils with rice and oven-charred broccoli these days. And do you know what? Everyone's happy.
Are you looking for ways to serve your family more meatless meals too? Do you want to cozy up with a comforting dinner that you can feel good about? These recipes are the perfect way to get started.
No one will miss the meat with this hearty bean-and-cauliflower chili. It gets its incredible flavor from the addition of coffee and cocoa powder. They work together with the chipotle pepper and spices to give the chili a deep, savory flavor.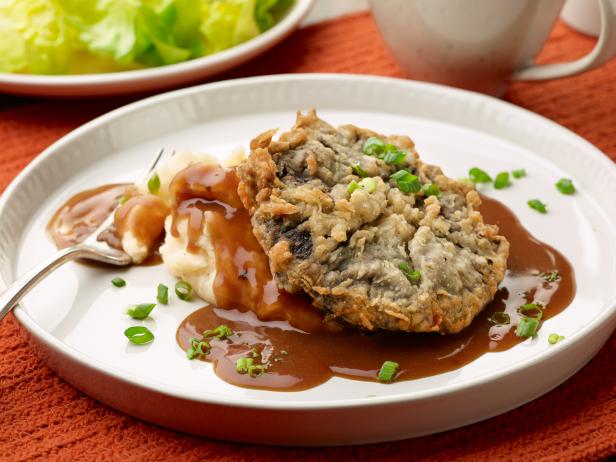 FNK_VegetarianChickenFriedPortobelloMushroomSteaks_H
Chef Name: Food Network Kitchen Full Recipe Name: Vegetarian Chicken-Fried Portobello Mushroom Steaks Talent Recipe: FNK Recipe: Food Networks Kitchen's Vegetarian Chicken-Fried Portobello Mushroom Steaks, as seen on Foodnetwork.com Project: Foodnetwork.com, HOLIDAY/SUPER BOWL/COMFORT/HEALTHY Show Name: Food Network / Cooking Channel: Food Network
Renee Comet, 2013, Television Food Network, G.P. All Rights Reserved
Despite the name, there's no meat or poultry in this dish. Hearty portobello mushroom caps are covered with the same breading that's used to make chicken-fried steak — and then fried until golden and crispy.
Well-spiced lentils are a family-favorite in our house. They're so comforting (and filling) spooned over fluffy basmati rice. They also pair perfectly with oven-roasted vegetables, making it easy to bring a wholesome, meat-free meal to the table.
Whether you make your own from scratch or opt for store-bought, there's no denying that potato gnocchi always makes for a satisfying meal. Here, we turn them into a well-rounded vegetarian main by adding butternut squash and kale.
Healthy, delicious and easy to make — these grain bowls check off all the boxes. They feature plenty of protein (thanks to the chickpeas and quinoa), are loaded with crave-worthy ingredients (like roasted sweet potatoes), and come together with the help of a sheet pan (easy cleanup!). What's not to love?