Guy, Alton, Bobby, Alex and More All-Stars Reveal the Best Things They Ever Ate in New Series
You know these A+ chefs can cook up a star-studded meal on the fly. But when it's their day off, where do they go for a bite to eat? We're about to find out.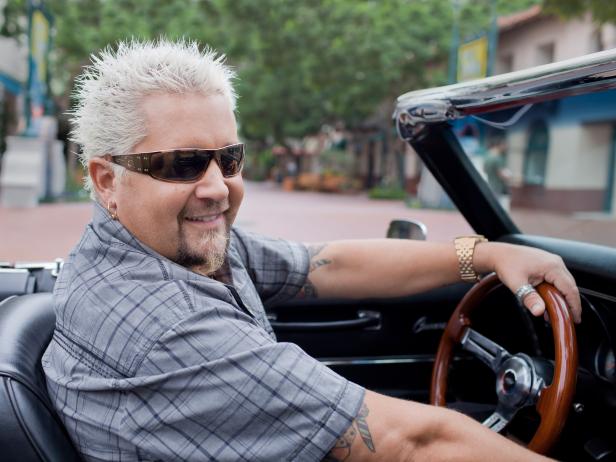 Host Guy Fieri driving his convertible down State Street in Santa Barbara, California, takes a cross-country road trip to visit some of America's classic "greasy spoon" restaurants - diners, drive-ins and dives - that have been doing it right for decades as seen on Food Network's Diners, Drive-Ins, and Dives.
John Lee, 2011, Television Food Network, G.P.
Juicy burgers, cheesy pizzas with super-thin crusts, perfectly al dente pastas, crunchy fried chicken, crisp salads and silky ice creams. These are just a few of the dishes that chefs like Guy Fieri, Bobby Flay, Alex Guarnaschelli, Alton Brown and others know how to make. In fact, they're experts at those plates and so many others because they do it all. the. time. But even the best, busiest chefs need time away from the kitchen, and on those days, they head straight to their favorite restaurants to experience the dishes they crave most. On All-Star Best Thing I Ever Ate, we're going to find out exactly where they go and what they order. (Because we want to go there too!) And, bonus: Chefs will share their recipes for similar can-do dishes at home.
Beginning Monday, July 20 at 9|8c, we'll check in with big-name chefs you know and love, including Martha Stewart, Duff Goldman, Geoffrey Zakarian and Anne Burrell, among others, to get the 411 on their picks for giant steaks, stacked sandwiches, old-school burgers, and more classic and creative dishes. Hear from the chefs as they talk about what makes these dishes so darn good, and then get their takes on the week's culinary theme with brand-new recipes you can try at home. (Spoiler alert: You'll definitely be drooling as you watch!)
Mark your calendars for Monday, July 20 at 9|8c to catch the first episode of All-Star Best Thing I Ever Ate. We'll head to hot spots in Las Vegas, NYC, Chicago, Atlanta and more cities to get an insider's look at top picks for marvelous meats.