Level:

Easy

Total:

4 hr 36 min
Prep:

30 min

Inactive:

4 hr

Cook:

6 min
Level:

Easy

Total:

4 hr 36 min
Prep:

30 min

Inactive:

4 hr

Cook:

6 min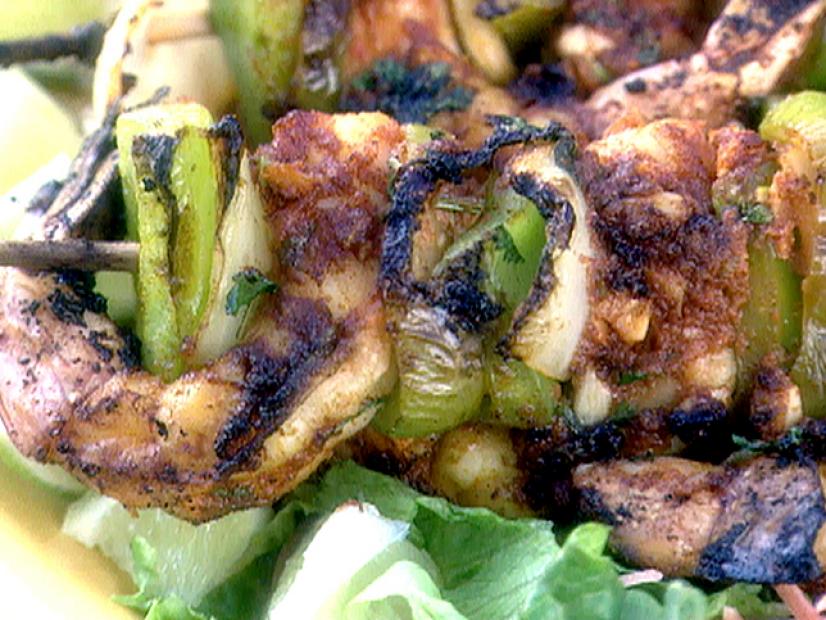 Special equipment:
25 metal or wooden skewers
If using wooden skewers, soak them in water for at least 30 minutes before skewering food.
Cut onions, tomatillos, and bell peppers into large, skewer-sized pieces. Assemble skewers, alternating 1 piece of each vegetable between 5 shrimps on each skewer. Arrange skewers in a large non-reactive baking dish and pour the marinade over. Submerge skewers in marinade, and marinate, covered, in the refrigerator, for 4 to 6 hours.
Preheat a grill to medium-high heat. Grill skewers for approximately 6 minutes, turning as needed. Remove from the grill and serve.
Marinade:
Combine all ingredients together in a large bowl and mix well. Pour marinade over skewers as directed above.