Level:

Easy

Total:

5 hr 5 min
Prep:

25 min

Inactive:

1 hr

Cook:

3 hr 40 min
Level:

Easy

Total:

5 hr 5 min
Prep:

25 min

Inactive:

1 hr

Cook:

3 hr 40 min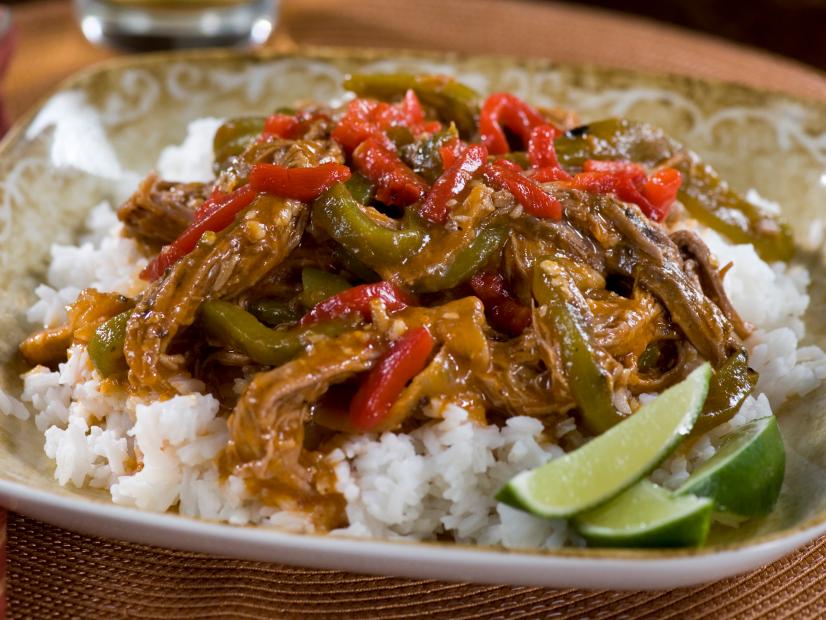 Add the olive oil to a large, heavy pot and heat over medium-high heat. Add 2 teaspoons salt, broken bay leaves, crushed red pepper flakes and halved jalapeno and stir. Add the quartered onions, chopped carrot, parsley, and mashed garlic cloves and stir again. Place the brisket in the pot, season with salt and pepper and add enough water to cover by 2-inches. Bring to a boil, reduce the heat so that the liquid just simmers, and cook the brisket until the meat is tender enough to shred, 2 to 3 hours. Remove the meat from the cooking liquid and set aside until cool enough to handle. Strain the cooking broth through a fine-mesh sieve and discard solids. Reserve 1 1/2 cups of the broth for the ropa vieja and use the remaining broth for another purpose.
When the meat has cooled, shred it into 3 to 4-inch strands. Set aside.
Combine the minced garlic, oregano, 1/2 teaspoon of salt, and 1/2 teaspoon pepper in a mortar and pestle and work into a smooth paste. Set aside.
In a large skillet, heat the olive oil and add the sliced onion. Saute until translucent, about 4 minutes. Add the garlic paste and bay leaf and cook, stirring, for 1 minute. Add the tomato sauce, reserved beef broth, wine, and vinegar and simmer for 5 minutes. Add the shredded beef and roasted green pepper strips, stir to combine, and cook, covered, for 30 to 40 minutes, or until the meat is fork tender and falling apart, coated with a thick sauce, and the flavors have come together. If the sauce gets too thick, add a bit more of the reserved beef broth. Taste and adjust the seasoning, if necessary. Remove the bay leaf and serve, garnished with the pimiento slices, lime juice and cilantro, if desired.