Total:

4 hr 40 min

(includes chilling time)

Active:

35 min
Total:

4 hr 40 min

(includes chilling time)

Active:

35 min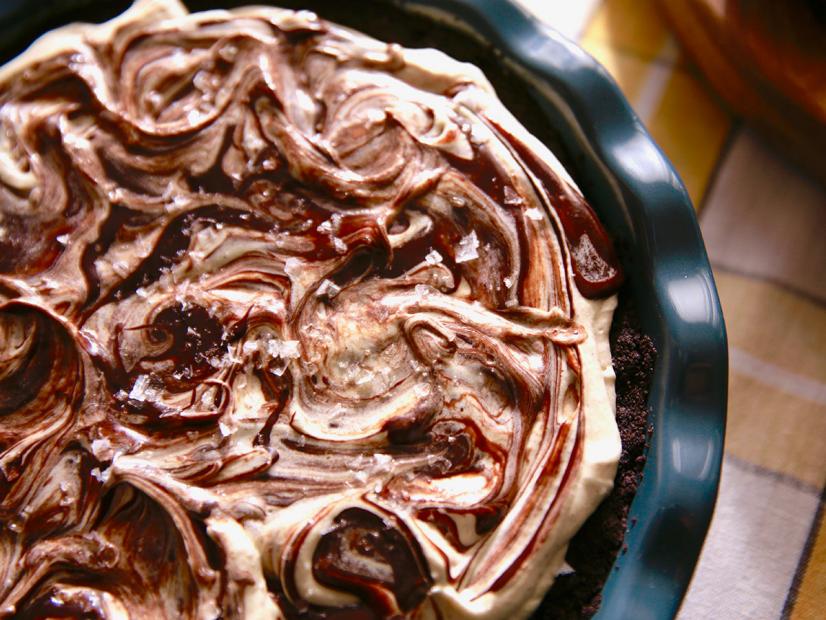 For the crust: Preheat the oven to 350 degrees F. Grease or butter a 9- to 9 1/2-inch pie pan.
Combine the cookies, espresso powder and salt in a food processor until very finely ground. With the food processor running, drizzle in the butter and blend until combined. Transfer the mixture to the pie pan and pack it very firmly on the bottom and sides. Bake for 6 minutes. 
For the fudge: Meanwhile, melt the butter in a medium saucepan over medium heat, then add the cocoa powder, granulated sugar, espresso powder, salt and heavy cream and whisk to combine. Continue to cook, whisking, until smooth and glossy, about 5 minutes. Remove from the heat. 
When the crust is done baking, pour most of the fudge into the crust and spread it evenly around the bottom. Reserve a few spoonfuls to drizzle on top. Stick the crust in the fridge to cool completely while you make the filling.
For the filling: Combine the cream cheese and tahini in a stand mixer fitted with the whisk attachment and whip until smooth. Mix in the powdered sugar, vanilla, cinnamon and a pinch or two of salt (if there's salt in the tahini already, you'll just need a little bit or none—you can add salt to taste!), and beat until combined. With the mixer on low, drizzle in the heavy cream, then gradually increase the speed to high and mix until pale and fluffy. Pour the mixture into the cooled crust, then drizzle with the reserved fudge (if it's firmed up by now, you can reheat it gently until it's drizzly), swirl it around, sprinkle with flaky salt if desired, then let set in the fridge for 4 hours or up to overnight. Enjoy!