How to Eat Vegan at Disneyland
At Disneyland, it's a plant-powered world, after all.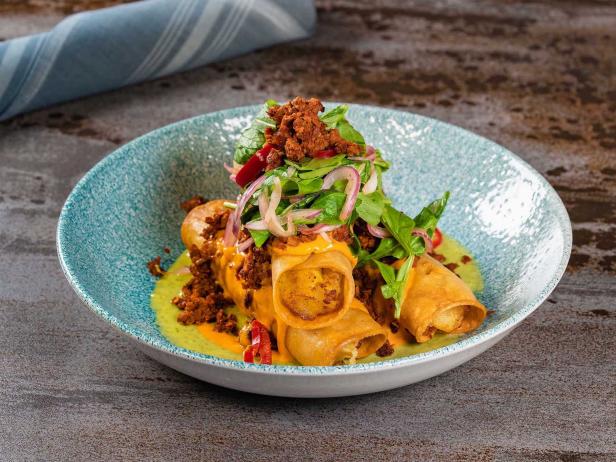 Lamplight Lounge at Pixar Pier in Disney California Adventure Park serves brunch in the downstairs dining room. Guests are invited to sit back and relax while they take in stunning views of Pixar Pier and indulge in a delicious brunch menu featuring a variety of unique dishes and cocktails. Pictured here, the potato flautas are made with plant-based chorizo, vegan piquillo crema, serrano-tomatillo salsa, arugula salad and escabèche. (David Nguyen/Disneyland Resort)
When Walt Disney opened Disneyland in 1955, few people had heard the word "vegan." It's a safe guess that any menu item in theme park made with no animal products was mere coincidence. Maybe salad with vinaigrette? Toast with jelly?
Today Disneyland is a culinary playground for vegans. In fact, PETA — People for the Ethical Treatment of Animals — named Disneyland the "Most Vegan-Friendly Amusement Park" in February 2019. Seek out the vegan gumbo, jackfruit barbecue and portobello Philly sandwiches touted by PETA, and sample the meat- and dairy-free dishes that Disneyland is constantly adding to the offerings.
The original Disneyland enterprise has expanded to include a second theme park called Disney California Adventure plus three hotels and the Downtown Disney District, a dining/retail/entertainment complex. You'll find at least one vegetarian item at each Disney-run quick-service and table-service eatery within each of these.
In lieu of the term "vegan," Disney's chefs and wellness pros prefer to refer to appropriate options as "plant-based."
"Plant-based" and the alternative "plant-powered" open up the field, the team says, to appeal to guests who often choose meat-free meals even if they're carnivores. Many of the new creations are designed to appeal to omnivores along with those who eschew meat, fish, shellfish, eggs, dairy and honey. An example is a recent entrée at Napa Rose, a fine-dining establishment within the Grand Californian Hotel & Spa. It is sesame-lemon roasted cabbage roulade stuffed with forager mushrooms, minted green garbanzo and red Fresno piperade. No special orders. Not yet-another-salad. No need to dig into your backpack for a bag of trail mix. Disneyland is going out of its way to create plant-based meals that are in demand, not a last resort.
In other words, the expanded offerings aren't old-school vegan, like veggie burgers made with substitute proteins – although of course Disneyland serves those too. In fact, the version at Hungry Bear inside Disneyland Park is a quarter-pound plant-based patty with dairy-free cheese, lettuce, a housemade vegan Thousand Island dressing and fries or slaw.
Here are seven tips about how to eat vegan at Disneyland.
Embrace alternatives. The folks spearheading Disneyland's plant-powered initiative recognize that new products on the market make their job much easier. Whether made commercially or conjured up by culinarians, Disney's chefs can use foods like a vegan mayo or aÏoli, maybe laced with hot sauce or garlic, plus substitutes like dairy-free cheeses that melt beautifully; seitan cutlets that convincingly substitute for meat and poultry; a cured tomato product that fills in for raw tuna; and soy-based creations like tofu that, soft or firm, can stand in for eggs and other foods. Take meatless meatloaf. The Ithorian Garden Loaf will be a staple of the Docking Bay 7 Food and Cargo restaurant when it opens in Star Wars: Galaxy's Edge in August, served with a roasted vegetable-potato mash, seasonal vegetables and mushroom sauce.
Or go with foods the way nature intended them. Disneyland's chefs are having a ton of fun with foods au naturel. Bengal Barbecue at Disneyland Park offers up the Outback vegetable skewer. Park-hoppers who want a substantive sandwich can lunch on the Enchanted Cauli-Flower Sandwich at the same park's Red Rose Taverne. It's a grilled cauliflower steak on a toasted roll topped with vegan spicy lime aioli, lettuce and stewed tomatoes.
Ask questions. Disneyland wants you to find vegan eating easy. Its chefs are well-trained in providing plant-based meals, and will come talk to you at every restaurant that has one – including places where you order at the counter. The kitchen crew will even custom-make a dish if that's what is necessary. The servers know this and will guide you appropriately. Just ask.
Eat vegan with global flavors. At the Lucky Fortune Cookery in Disney California Adventure Park, you can have a tofu Asian rice bowl topped with Thai coconut curry, teriyaki, spicy Korean or mandarin orange sauce. Or, embrace Americana with a BBQ jackfruit sandwich on ciabatta at Smokejumpers Grill; the latter is served with Bear Paw Slaw, housemade sweet pickles, crispy onions and waffle-cut fries or onion rings. And hey, you can even cap off the evening with a lentil garden bowl to go with your fruity rum-based cocktail at Trader Sam's Enchanted Tiki Bar at the Disneyland Hotel. Weekend brunch at the Lamplight Lounge at California Adventure might be potato flautas, an entrée of plant-based chorizo, vegan piquillo crema, serrano-tomatillo salsa, arugula salad and escabeche.
Kid around with vegan foods. Vegan food should appeal to even picky little eaters, so Disneyland offers plant-based alternatives for the under-12 set, too, upon request. For starters, request the vegan Mickey waffles served during Plaza Inn breakfasts at Disneyland Park. When Docking Bay 7 Food and Cargo opens, children can choose the Taste of Takodana – black bean hummus with "edible soil with nuts" plus chilled dipping vegetables and multi-grain crisps.
Do your research. Disneyland makes it easy to see if a restaurant is right for you. Every single menu is posted online, so click here, pull up the restaurant and click on "View Menu." Scroll down to see if the restaurant serves what you want.
Dine Downtown. At Downtown Disney, other outfits own some of the restaurants, and many have vegan offerings of their own. A spicy veggie bowl at the Splitsville restaurant-slash-bowling alley is tempting, as is Soyrizo and Roasted Cauliflower Tacos with chipotle tofu aïoli at the Ballast Point Brewing Co. Tortilla Jo's puts out quinoa "meatballs" with black beans, roasted tomatoes and poblano peppers with salsa ranchera and cilantro green rice. Also: Portobello mushroom fajitas.
Think of it as the Wonderful World of Ethical Eating.