This Is the One Ingredient You Should Be Adding to Your Coffee
The savory addition is just what your morning latte has been missing.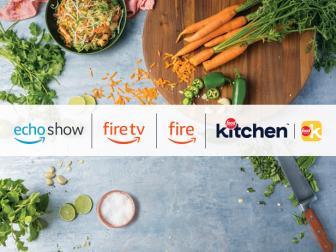 Download Food Network Kitchen to sign up and get access to daily live classes, thousands of on-demand cooking classes, in-app grocery ordering and so much more. Own a Fire TV, Fire tablet or Echo Show? You can now get a 1-year complimentary subscription to the app — read here for more details. Terms and conditions apply.
Everybody's got their favorite coffee order: light and sweet, just milk, only sugar, black. And now we're adding "salted" to that list. Yes, you read that right. We're adding a pinch of salt to our morning cup of joe from now until forever, and here's why you should be, too.
This tasty trick is all thanks to Claire Thomas's Salted Iced Latte class on the Food Network Kitchen app. In the class, Claire shows fans how to make a sugar-less vanilla latte and salt is the secret ingredient. Claire says the salt balances out the acid in the coffee making it more palatable.
"The salt chemically works with that acid in the coffee and it makes it a little more alkaline ... and it brings out those rounder, nuttier tones," she says.
A little bit goes a long way though, Claire warns. A teaspoon is too much. Think more like a pinch, especially for a single shot of espresso. "You will get salty coffee [if you add too much]," she says.
Claire isn't the only Food Network talent to use this hack. Alton Brown shared that he puts salt in his coffee in a 2015 Facebook post. "... Research has proven that salt is actually better at neutralizing bitterness than sugar," the post reads. This may explain why Claire doesn't need to add any sugar to her latte; the salt reduces that bitter taste that added sugar is often used to mask.
If you're making an iced drink, you'll want to make sure to add the coffee and stir — or shake in the case of this class — to disolve the salt. You'll notice the salt brings out a hazelnutty, well-rounded flavor to your coffee. Keep in mind this hack also only works with coffee. A tea latte does not need salt.