This Is the Only Method I'll Use to Make Steak At Home
Skip the grill and reverse sear instead.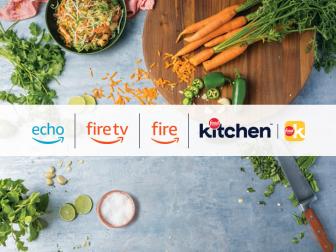 Download Food Network Kitchen to sign up and get access to live and on-demand cooking classes, in-app grocery ordering, meal planning, an organized place to save all your recipes and much more. Own a Fire TV, Fire tablet or Echo Show? You can now get a 1-year complimentary subscription to the app — read here for more details. Terms and conditions apply.
The kitchen is my happy place and I'm game for trying almost any new recipe. However, the one thing that's always stopped me in my tracks is steak. The few times I've tried to make steak on a grill pan or in a skillet on the stovetop, it's been a disaster. Until recently, I'd given up on thinking I'd be able to cook steak in my apartment successfully. Then, I learned about the reverse sear method and suddenly, the perfect steak became a possibility.
Chances are you've seen or tried the classic steakhouse method of cooking a steak: sear on the stovetop in a cast iron skillet and finish it in the oven. Sounds simple right? Not exactly. In a small apartment, this method sets off every fire alarm and it can be hard to keep from overcooking the steak. If you're lucky enough to have a grill, maybe that's your go-to. My issue there? No edges seared in butter. Seriously, once you have a steak seared in butter and aromatics you won't go back.
Which brings me to the reverse-sear method: Originally developed in the mid-2000s, one of the pioneers of the method is J. Kenji Lopez-Alt, James Beard award-winning author of The Food Lab. He developed it as a way to make the perfect steak indoors — and it's now the method everyone talks about.
His reverse sear method of a steak is essentially turning the steakhouse method on its head. Cook the steak on a low temperature in the oven first and then sear it in a hot pan on the stove after. Cooking the steak in a low-temperature oven ensures even cooking and a more tender steak. It also gives you more time to get the steak just how you like it. At a high temperature, your window to get a just-right medium-rare is short. With a lower temperature, you have more control.
You'll also get a great sear on the steak. When you cook the steak in the oven first, much of the surface moisture evaporates providing a drier exterior, which is how you get that perfectly browned exterior without overcooking the steak.
Now, if you're looking for a video walk-through of this tried-and-true method, Elena Besser's Reverse-Seared Rib-Eyes class on the Food Network Kitchen app is a great place to start. She'll walk you through cooking the steaks from start to finish with helpful tips along the way. For example, only season your steaks with salt because the pepper could burn during searing. And cook steaks on a wire rack and baking sheet in the oven to keep them from steaming — steam is the enemy of a good sear.
When you take this class, you'll also find instructions for a side of creamed spinach, so you can "bring the steakhouse to your house," as Elena says. And who doesn't want that?