Ellie Krieger's Healthy Scrambled Egg Hack Is Life-Changing
You'll never look at egg whites the same way again.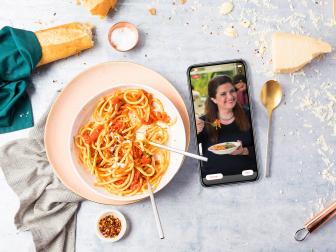 Download Food Network Kitchen now to sign up and take advantage of the latest offer and get 40+ live classes a week, hundreds of on-demand cooking classes, in-app grocery ordering and so much more.
Here's the thing about eggs: They're good for you — in moderation. While eggs can be a great source of protein and other nutrients, the yolks are high in saturated fat and cholesterol, which could be a concern for anyone with high cholesterol or make you think twice if you're trying to lose weight. If you've ever tried to cut down on calories, your eggs at breakfast probably turned into egg whites. Egg white omelets, egg whites on toast, scrambled egg whites. The list goes on.
But the thing about egg whites? While they may be high in protein, they're low on everything else including good-for-you nutrients. Plus, they're lacking in flavor. Seriously, no amount of butter or oil is going to fix 'em. And chances are you're limiting those high-fat ingredients if you're trying to eat more mindfully.
Luckily, you don't have to totally sacrifice flavor in the name of health. In her Healthy Breakfast Sandwich class on the Food Network Kitchen app, Ellie Krieger shares her genius hack for making scrambled eggs without totally nixing the yolk's benefits. Her secret? Just use one yolk. Using one full egg with the yolk and one egg white per serving cuts down on bad cholesterol and saturated fat so you're still getting all the benefits of eggs without totally killing the nutrition or taste.
"There's no reason to avoid egg yolks entirely," says Ellie. "You just want to keep it to one whole egg a day."