This Is the Healthiest Way to Cook Eggs
Make your go-to breakfast food even better for you.
Keep in mind: Price and stock could change after publish date, and we may make money from these affiliate links.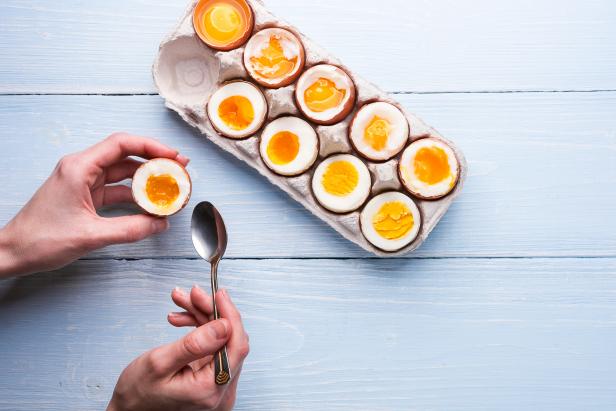 Eggs
Eggs are not only a great way to get quality protein in your diet but they also contain the nutrient choline, "a B like vitamin that is essential for women who are trying to conceive to support a healthy pregnancy and baby," says Shaw. "Recent research shows that even those women who are pregnant are still falling short of the daily recommendations that is crucial for fetal growth and development, as well the health of the mother too. Be sure to keep the yolk when making your eggs, it's where the majority of the nutrition is found!"
This registered dietitian is a huge fan of eggs. The nutritional benefits are just as extensive as the variety of ways to enjoy them. A common question asked of many dietitians is, "What is the healthiest way to cook eggs?" Here's a breakdown of all the common ways to make eggs and which one is the most nutritious.
One large egg contains 70 calories, 5 grams of fat (including 1.5 grams of saturated fat), 185 mg of cholesterol, 70 mg of sodium and 6 grams of protein. Eggs are free of carbs, fiber and sugars and contain numerous vitamins and minerals including Vitamins A, D, E, B2, B12 and biotin along with iron, potassium, calcium and selenium. Eggs also contain choline and folate, two important nutrients for supporting cell growth, brain health and healthy pregnancies. Eggs are a complete protein.
Breakfast is synonymous with the sound of whisking eggs splashing in a bowl. This method of preparation typically requires some form of fat to prevent the eggs from sticking to the pan. Oil, butter or cooking spray are all be acceptable (a nonstick pan helps too). Several recipes also call for milk, half-and-half or even cream added to the egg mixture, which clearly increases the fat and calories. However, adding some form of milk isn't necessary – adding a splash of water is also considered socially acceptable by some and will cost no additional calories. If you're into math each teaspoon of oil contains 40 calories and 4.5 grams of fat, and a teaspoon of butter has about 35 calories and 4 grams of fat. Heavy cream stacks up to 50 calories and 5.5 grams of fat per tablespoon. So a single scrambled egg with one or more additional ingredient could add up to a minimum of 110 calories.
Eggs can be boiled right in their shells. Soft boiled eggs yield a coveted soft and runny yolk, while a longer cook time results in a completely firm yolk that is often serve chilled. Making boiled eggs requires no added cooking fat, so calories are left to the egg itself. Soft boiled eggs make surprisingly satisfying breakfast and hard boiled make for a simple and portable snack or protein source for salad.
Put simply, poached eggs are boiled eggs, without the shell. Gently pour a cracked egg into a pool of gently simmering water and (fingers crossed) the end result is a wiggle pouch of warm, gooey yolk surrounded by a nest of soft cooked egg white. This is another no-fat-required way to prepare eggs and they are a great addition to grain bowls. The brunch classic Eggs Benedict can be made lighter, but some traditional recipes contain more than 1,000 calories per serving.
Food safety tip: If you choose to make soft-boiled or poached eggs, it's recommended to purchase pasteurized eggs.
Fried eggs are actually much healthier than they sounc. Instead of scrambling into a homogenous mixture, eggs are cracked directly in the pan and cooked. They can then been prepared "sunny-side up" or flipped and cooked on the other side until desired doneness — hence the terms "over easy" for a runnier yolk and "over hard" for a more thoroughly cooked yolk. Like scrambled preparation, some oil or butter is desirable here – especially if you want that yolk to remain intact. Serve over rice bowls or even on top of a burger.
Whether you want egg cups for meal prep breakfast sandwiches, quiche or batch of egg muffins – eggs love to be baked! This method is a wonderful way to prepare eggs and the nutrient value comes down to what you mix the eggs with. Lots of milk, cream, cheese and pastry can make for a high calorie quiche, but this can be curtailed using lower fat ingredients, loading up on veggies, and even going crust-less.
Just when you thought there was no other ways to make eggs! Sous vide calls for cooking eggs in a vacuum sealed bag which is submerged in water. This method allows eggs to be cooked in or out of the shell to any level of doneness. While fat is not required, some recipes for "egg bites" will make a scrambled mixture of eggs, cheese, meats and veggies for sous vide preparation thus increasing the calories and fat.
Bottom Line: Boiled eggs are the best way to keep it simple, but enjoying eggs in a variety of fashions is certainly a healthy choice.