The Best Way to Cook a Steak Without a Grill
No grill? No problem. We walk you through how to achieve grill-like results in your kitchen.
Keep in mind: Price and stock could change after publish date, and we may make money from these links.
By Heath Goldman for Food Network Kitchen
Heath Goldman is a culinary editor at Food Network.
Cooking steak on a grill is one of the easiest ways to achieve a thick, crackling crust and juicy interior. Charcoal grills also impart delightful smoky flavor. But what if you don't have access to a grill? Great news: It's easy to achieve very similar results within your kitchen. Whether you're cooking a marbled prime ribeye, a lean London broil or something a little more middle of the road, we're here to walk you through each and every step to achieving perfectly cooked steak. There are two different easy techniques that'll help you achieve grill-like results.
Always Pat Your Steak Dry
The golden rule to achieving steak with a deep-brown, flavorful crust? Eliminating as much moisture as possible from its surface. Moisture is the enemy of crispiness. That's because moisture slows down Maillard reactions, the process responsible for turning steak brown and crispy. Whether you've marinated your steak or not, you'll want to blot it all over with paper towels before you season it. Doing so prevents seasoning from melting and inhibits steam (moisture!) from forming when you cook the steak.
Season the Steak with Smoky Flavor
After the steak is dry, brush it with some neutral oil (like canola oil or grapeseed oil) and generously season it with kosher salt and freshly ground black pepper. If you'd like to add a layer of smoky flavor, consider seasoning the steak with smoked salt instead of kosher salt, or rubbing on some smoked paprika.
Let the Steak Come to Room Temperature
Next, let the steak come to room temperature for about 30 minutes or so. While this step might seem unnecessary, it can mean the difference between a good steak and a great steak. That's because if the steak comes straight from the fridge, it won't cook evenly — the inside will stay raw even after the outside sears.
How to "Grill" Steak with a Cast Iron Skillet
A cast iron skillet gets scorching hot and stays that way, hitting steak with the same sort of powerful heat that a grill does.
Preheat the skillet. Stick it in a 400-degree F oven for 20 minutes or heat it over a high flame for about 10 minutes. Test that the pan is ready by adding a drop of water to it. The water should evaporate immediately.
Place the steak in a dry pan. You've already brushed the steak in oil which will suffice. And any oil you added to the scorching pan would only smoke and burn. If the steak has a fat cap, sear that side first.
Resist the urge to move the steak around in the pan as it cooks. The steak will brown better if it stays in place. Let the steak sear for a few minutes to develop a nice crust.
Flip the steak when you can easily move it around in the skillet. Gently nudge the steak with a spatula to test this out; if it sticks to the bottom, it's not ready.
Flip and sear on the second side. Cook the steak on the second side until it's developed golden-brown color. If the steak you're cooking is thick, make sure to pick it up using tongs and sear the edges all the way around.
Add a pat of butter. After you flip the steak, add a big pat of butter on top. It will melt and baste the steak, helping to caramelize the crust.
Finish the steak in the oven. Transfer the steak to a 450-degree F oven for 3 to 10 minutes, until an instant-read thermometer inserted into the thickest part of the steak reaches the desired numbers.
Our Favorite Cast Iron Skillets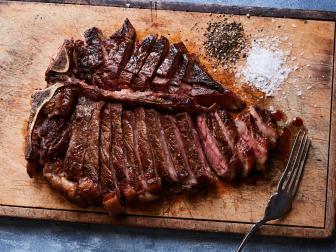 Pan Seared T-Bone Steak
No need to go to a steakhouse - or fire up a grill. All you need are a few ingredients and a hot pan.
How to "Grill" Steak Under the Broiler
Broiling is an easy, fast way to achieve steak that tastes like it was made on a grill. And this totally makes sense because a broiler is essentially like a mini grill built into your oven. It's a hot direct heat source – often an open flame – that shoots out to cook the meat quickly. Here's what to do.
Preheat the broiler. Position an oven rack 5 to 6 inches from the broiler unit and preheat the broiler.
Preheat a pan under the broiler. Preheat a heavy-duty skillet or baking sheet underneath the broiler for about 5 minutes.
Transfer the steak to the pan. Carefully remove the pan from the oven with mitts and transfer the oiled, seasoned steak to the center of the pan.
Cook the steak without turning. Broil (without turning) until nicely browned and firm, with some give when pressed in the thickest part, 135 to 140 degrees F for medium-rare. Remove the pan from the oven and transfer the steak to a cutting board.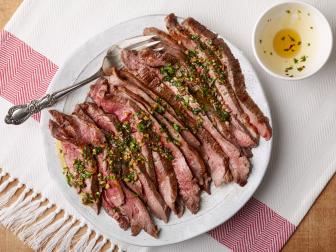 Simple Broiled Flank Steak with Herb Oil
Although flank steak is a relatively lean cut of meat, it's packed with flavor. This preparation is low-fuss and yields charred, juicy steak that tastes like it was pulled off the grill.
How Long Do You Cook Steak?
The best way to know when steak is done? Use an instant read thermometer. All of the pros do, so you can (and should) be using one as well.
For medium-rare, cook the steak to 130 to 135 degrees F.
For medium, cook to 135 to 140 degrees F.
For medium-well, cook to 140 to 150 degrees F.
Snag an Instant Read Thermometer
Keep in mind that the steaks will continue to cook and rise several degrees in temperature when they're off the heat. Let the steak rest for about 5 minutes. You can loosely cover it with foil so it remains warm while the juices redistribute evenly. If you don't give the steak a rest, all of its flavorful juices will run out onto the cutting board when you slice it.