Once You Try Crispy Sheet Pan Gnocchi You'll Never Make It Any Other Way
Broiling is the best way to cook packaged gnocchi — hands-down, no contest.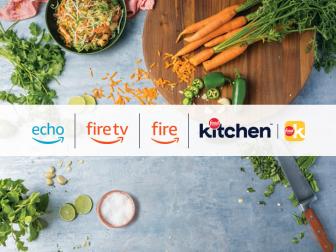 Download Food Network Kitchen to sign up and get access to live and on-demand cooking classes, in-app grocery ordering, meal planning, an organized place to save all your recipes and much more. Own a Fire TV, Fire tablet or Echo Show? You can now get a 1-year complimentary subscription to the app — read here for more details. Terms and conditions apply.
Quick thought experiment: imagine the last time you had incredible gnocchi. What made it stand out?
For me, it was the gnocchi's fluffy, tender texture. Needless to say, I had it at an Italian restaurant that knew a lot about making homemade gnocchi. Although gnocchi from scratch isn't too hard to pull off at home (see Food Network Kitchen's recipe for Potato Gnocchi), it takes a couple of hours and isn't exactly what I want to cook after a long day at work. And, real talk, packaged gnocchi is never going to taste the same. It's denser and chewier.
So instead of boiling or baking a package of gnocchi on a Wednesday night and wishing it tasted more like the pillowy homemade version, I broil it. Yep, that's right: I rip open one of those shelf-stable packages, toss the gnocchi with a tablespoon of olive oil, a lot of grated Parmesan cheese and a little bit of salt. Then I spread it out on a baking sheet and cook it under the broiler for about five minutes until each little potato dumpling turns super crispy on the outside while remaining soft on the inside.
The results are so tasty that I sometimes eat almost all of them straight off the baking sheet like finger food. In fact, I've considered serving them as an appetizer with marinara sauce for dipping. Bueller?
I was inspired by Food Network Kitchen's recipe for Crispy Sheet Pan Gnocchi with Sausage and Peppers, which has tons of 5-star reviews. In this recipe, you roast some sausage, sliced peppers and onions on a baking sheet, then top them off with packaged, Parmesan-coated gnocchi for a quick broil at the end. The complete meal takes just about 30 minutes. The best part is that you can customize the bake-then-broil baking sheet formula with whatever veggies and protein you have on hand to iterate crispy gnocchi dinners galore. Or, you can simply broil gnocchi all on its own. Whatever you do, don't skip the Parm.