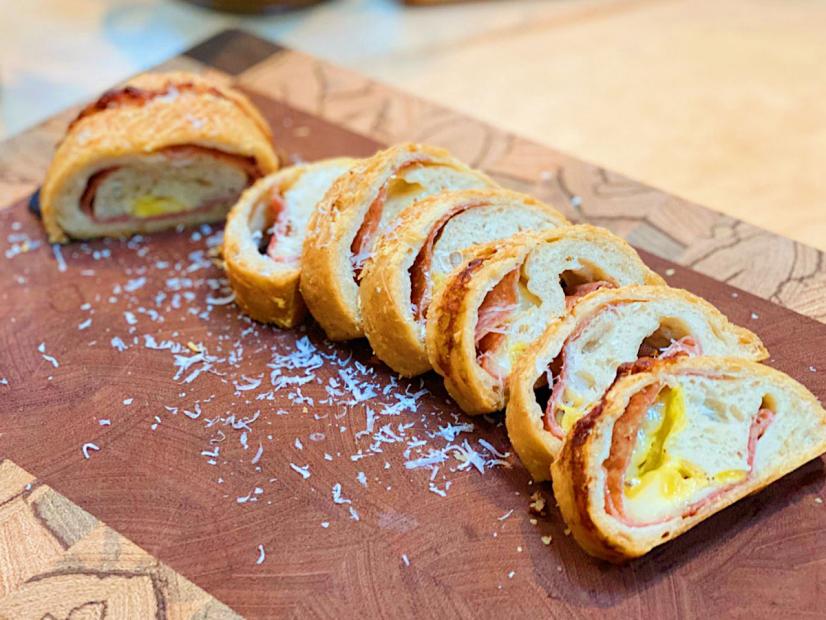 For the dough: Combine the flour, salt and yeast in the bowl of a stand mixer fitted with a dough hook attachment. Stir to combine, then add 1 cup water. Mix on low speed until the dough comes together into a rough ball. Continue mixing at medium-low speed until the dough forms a smooth, silky ball, about 10 minutes. Form the dough into a tight ball, set in the bottom of the mixer bowl, cover tightly with plastic wrap and set aside in a warm place until the dough has roughly doubled in size, about an hour.
For the pepperoni roll: Preheat the oven to 375 degrees F. Lightly oil a rimmed baking sheet. 
Roll the dough out into a rectangle 1/4 inch thick. If the dough isn't stretching well, cover and let rest at room temperature for 30 minutes, then stretch again. 
Leaving a 1/2-inch border, cover the dough with the sliced pepperoni. Cover the pepperoni with the mozzarella. Fold over the outside edges of the dough and roll up lengthwise like a jelly roll. 
Transfer the roll to the baking sheet, seam-side down. Make 6 shallow cuts on an angle on the top of the roll. Brush with the oil and sprinkle with the Parmesan. Bake until golden, 25 to 30 minutes. 
If you prefer fresh yeast, use .33 ounces fresh for a teaspoon of instant yeast. For more ingredient substitution ideas, see the article below.