On the Road Eats: A Is for Autumn Apples
Apples are coming down from the trees and onto the plate this season. Enjoy this fruit's warm flavors at some of Food Network's favorite spots around the country.
Leaves are changing and the scent of cinnamon is in the air — it must be autumn, which means that fresh apples are the perfect star of seasonal dishes. Food Network offers up some of its favorite apple treats all over the United States. Wherever you are, savor fall flavors at any time of the day, trying brunch in California with an Apple Brandy Pancake Souffle at Bette's Oceanview Diner and lunch in Olympia, Wash., with Winter Squash and Apple Hash at Darby's Cafe. Find dinner in Brooklyn with a Skillet Apple Waffle at Jimmy's Diner. And, of course, take every opportunity to snack on apple doughnuts, apple tarts, apple pies and more sweet treats.

1. Al Forno — Providence
Start off your apple homage in Providence at Al Forno Restaurant. While this chic Italian spot offers grilled pizzas and handmade pastas, it's their Golden Delicious Apple Tart that encourages Alex Guarnaschelli to suggest a private plate-licking session. Chef-owners Johanne Killeen and George Germon create dishes meant to reflect the products of New England's farms and waters, all cooked in wood-burning ovens and over hardwood charcoal fires while still bringing fresh Italian flavors to every meal.
Recommended Dish: Golden Delicious Apple Tart

2. The Apple Barn & Country Bake Shop — Bennington, Vt.
The apple doesn't fall far from the tree in Bennington, where The Apple Barn serves up a variety of dishes inspired by the local produce. The owners of the Southern Vermont Orchards have been growing superior crops since 1910, and realized that the best way to keep up with demand was by creating The Apple Barn. They offer many homemade goodies, Vermont products, cheeses and the largest selection of maple syrup in the area. Rachael Ray suggests the Apple Pie a la Mode here, one of her favorite fall treats.
Recommended Dish: Apple Pie a la Mode

3. Bette's Oceanview Diner — Berkeley, Calif.
Bette Kroening's diner opened in 1982 and has been attracting fans with its eclectic decor, funky vibe and delicious meals ever since. With a focus on organic and local, Bette's Oceanview Diner appeals to the Northern California crowd. Join students and locals for Bette's apple specialty — an Apple Brandy Pancake Souffle. It's light, airy and, as the regulars say, like "eating a cloud." Who wouldn't want a bite of that?
Recommended Dish: Apple Brandy Pancake Souffle

4. Blaue Gans — New York
Chef Kurt Gutenbrunner grew up in a little village by the Danube River before he traveled throughout Europe for his culinary training. Chef Kurt runs four restaurants in New York, but Blaue Gans (German for "blue goose") is the place to go for apple strudel this fall. Located in Tribeca, this location serves up a refreshing take on modern Austro-German cuisine. For a delightful pairing, preface your strudel with the classic Wiener Schnitzel.
Recommended Dish: Apple Strudel

5. Charleston's Candy Kitchen — Charleston, SC
Stan "the Candy Man" Strickland learned his trade from his mother, spending hours in the kitchen with her to see how to make homemade Southern delights. The first Candy Kitchen opened up 30 years ago, and the freshness of its recipes has never faltered. Serving up candies, cakes and confections of all kinds, the Candy Kitchen now has four locations. Alex Guarnaschelli is a fan of the Charleston incarnation and remembers craving the caramel apples during pregnancy. Alex claims the apples are "caramel goodness on a stick," as each apple gets dipped inside the magical copper kettle of the Kitchen's smooth, ooey-gooey caramel.
Recommended Dish: Caramel Apples

6. Colossal Cafe — Minneapolis
Diners looking for apple must try Colossal Cafe's breakfast special: Apple, Walnuts & Brie Pancakes, a dish that locals line up for. When Guy Fieri swung by this 500-square-foot location, he was blown away by the popularity of this cozy cafe and its Meatloaf Sandwiches (with citrus-infused cranberry compote), which he simply referred to as awesome. This family-owned establishment bakes its own bread daily and is known for its wholesome and fresh flavors.
Recommended Dish: Apple, Walnuts & Brie Pancakes

7. Darby's Cafe — Olympia, Wash.
Darby's attracts vegetarians, vegans and meat eaters alike with its good old-fashioned cooking made with farm-fresh fruits and vegetables. Featuring local beers, this restaurant is committed to its roots and giving back to the neighborhood. Inside, Darby's has an eclectic and artsy atmosphere that encourages wonderful conversations over a plate of Winter Squash and Apple Hash, a local favorite.
Recommended Dish: Winter Squash and Apple Hash

8. Dutch Eating Place at the Reading Terminal Market — Philadelphia
The Reading Terminal Market of Philadelphia is an impressive farmers' market located in the historic district and sponsors a diverse range of merchants. Jeff Mauro calls it "an amusement park of food." Spend a day perusing the stalls, and make sure that snack time is at the Dutch Eating Place. This location offers traditional, local and organic Pennsylvania Dutch fare. Jeff Mauro loves the crispy crunch of the Hot Apple Dumpling combined with the doughy inside and the fruit brought straight from the farm. "It's like my mom's apple pie," he says, "but way better. Just don't tell my mom I said that."
Recommended Dish: Hot Apple Dumpling Served with Whipped Heavy Cream

9. Dynamo Donut & Coffee — San Francisco
No trip to San Francisco this fall would be complete without a stop at Dynamo Donut & Coffee. Its founder, Sara Spearin, is a graduate of the New England Culinary Institute in Vermont, where she honed her pastry skills. It wasn't until she was on maternity leave in California that she realized the lack of a perfect doughnut in her town, so she founded this local, organic cafe. Every doughnut is made by hand, with flavors ranging from Lemon Pistachio to Banana de Leche. For the perfect treat this season, try the favorite of pork-fanatic Chris Cosentino: the Bacon Maple Apple Donut. For those eaters looking for a vegetarian-friendly option, try the Caramel Apple Donuts — they're mouthwateringly good.
Recommended Dish: Bacon Apple Maple Donuts, Caramel Apple Donuts

10. Four & Twenty Blackbirds — Brooklyn
This celebrated Brooklyn pie shop was founded in 2010 by sisters and bakers Melissa and Emily Elsen. Raised in the rural farm town of Hecla, SD, these sisters have come a long way to serve their delicious baked goods with handmade crust. Bobby Flay, a native New Yorker himself, recalls that one of the best desserts he ever ate was their Salted Caramel Apple Pie. He knows that once you smell this treat, you'll devour it as fast as you can.
Recommended Dish: Salted Caramel Apple Pie

11. Happily Ever After Confectionery — Los Angeles (online ordering only)
Best friends Daryl Manese and Melissa Sachetto met in college, and embarked on what they call "an epic baking adventure" to add sweetness to everyone's life through cupcakes and cookies. Happy Ever After Confectionery caters events as well as offers online ordering. Determined to serve tasty treats for any and all, the Confectionary also offers vegan and gluten-free options. One example is the Apple Pie Cupcake, a delicious goodie perfect for a snack or dessert.
Recommended Dish: Apple Pie Cupcakes (vegan and gluten free!)

12. Island Cupcakes — Santa Margarita, Calif.
Road trippers this autumn should pull off of State Route 58 to enjoy a tasty cupcake in Santa Margarita at Island Cupcakes. This establishment utilizes fresh fruit in many of their flavors such as guava, passion fruit and mango. This fall, indulge in an Apple Cinnamon Streusel Cupcake, a tasty blend of apple cinnamon cream cake with a sugary streusel topping and glaze.
Recommended Dish: Apple Cinnamon Streusel Cupcake

13. Jimmy's Diner — Brooklyn
Open every day from 9 a.m. until midnight, Jimmy's Diner is an eclectic, retro diner lover's dream. With a checkered bar and a chalkboard sign out front, this cafe is perfect for the hungry and the hip. Guy Fieri personally thinks that their Skillet Apple Waffles are killer, noting the salty-sweet combination of the pancetta and maple syrup. Besides this must-try apple dish, Jimmy's Fried Chicken and Waffles are immensely popular.
Recommended Dish: Skillet Apple Waffle

14. Pie Town Cafe — Pie Town, NM
There really is a place called Pie Town — when making your pilgrimage to this destination, prepare yourself for the town's namesake, a New Mexican Apple Pie. This hearty and flavorful dish has been a favorite of cowboys since the 1930s. What makes it New Mexican? The answer is the pine nuts and green chiles that give it an extra zing. Duff Goldman remembers this slice as one of his favorite desserts, and recommends that you satisfy your apple cravings this year in Pie Town.
Recommended Dish: New Mexican Apple Pie

15. Schmidt's — San Francisco
Those diners ready for a classy and chic experience should look no further than Schmidt's in Northern California. This restaurant dresses up German specials with modern ingredients, such as herbed spaetzle and boar bratwurst. On her "best things ever list," Aida Mollenkamp praises Schmidt's fragrant Apple Strudel. This dish features buttery phyllo dough and golden raisins soaked in rum to give it an extra burst of flavor. You'll be rewarded for trying this dessert; Aida says, "it's what dreams are made of."
Recommended Dish: Apple Strudel

16. Sinfully Sweet Apple Company — La Verne, Calif.
True to its name, the Sinfully Sweet Apple Company offers more than 100 different kinds of gourmet apple treats and prides itself on experimenting every day. Diners should be forewarned that it will be incredibly difficult to choose from the delicious varieties. Will it be the Blue Hawaiian with coconut and pineapple, or the Bavarian Cream covered in graham cracker crumbs? This stop in La Verne will enable you to fulfill all your apple dreams and discover what your ideal apple goodie truly is.
Recommended Dish: Blue Hawaiian Caramel Apple, Bavarian Cream Caramel Apple

17. Sky Top Orchard — Flat Rock, NC
Enjoy the outdoors at the Sky Top Orchard in the mountains of North Carolina, where customers can pick more than 20 different types of apples. Besides apple picking, the orchard offers a variety of things to do for the whole family, including hayrides, jam and jellying activities, and petting barnyard animals. Apple lovers will appreciate the preservative-free cider made from their own apples, and cleaned and bottled on the premises. Bobby Flay loves his cider with a slice of cornbread.
Recommended Dish: Apple Cider

18. The Tamale Place — Indianapolis
The Tamale Place is impressive for many qualities, but perhaps most notable is that each of the 150,000 tamales produced per year is handmade and hand-tied. Guy Fieri was astounded when he learned that this meant the masa (corn dough) for the tamales is freshly ground every day. The fresh, hearty flavors present in all of the dishes at The Tamale Place make this restaurant's authentic Mexican cuisine very memorable. While the tacos and tortilla chips are delicious, apple lovers should take a bite of their Apple Pecan Tamales for a great blend of crunchy textures and sweet fillings.
Recommended Dish: Apple Pecan Tamale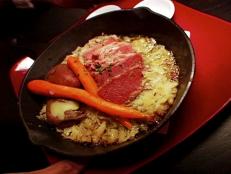 Your string of luck continues with these places that serve dishes with an Irish twist.