4 Brady Bunch Food Moments HGTV Should Totally Recreate in That House
And we've got the groovy recipes ready to go.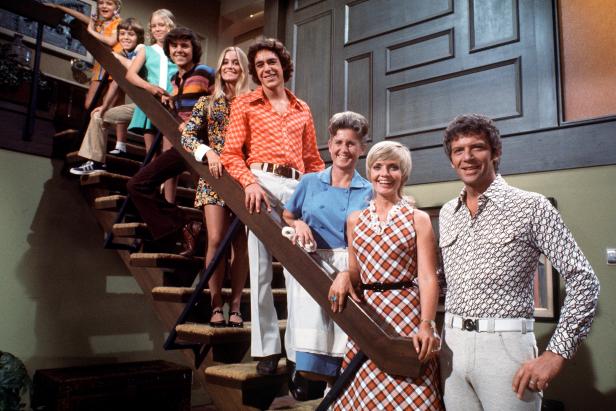 2226_1-1.jpg
UNITED STATES - DECEMBER 10: 2226_1 -- THE BRADY BUNCH -- 9/69, TRACKING #7725, Mike Brady (Robert Reed), an architect with three sons, married Carol (Florence Henderson), a widow with three daughters. Their children were, from bottom: Greg (Barry Williams), Marcia (Maureen McCormack), Peter (Christopher Knight), Jan (Eve Plumb), Bobby (Mike Lookinland) and Cindy (Susan Olsen). Alice (Ann B. Davis) was the family's housekeeper. (Photo by ABC Photo Archives/ABC via Getty Images)
Photo courtesy of ABC Photo Archives/Getty
Here's the story of a lovely home ... recently purchased by HGTV! (Are you singing the Brady Bunch theme song in your head now?) Located at 11222 Dilling St. in North Hollywood, the iconic home is no longer Mike and Carol Brady's (and truthfully, it never was; the unmistakable home was only used for exterior shots). HGTV (Food Network's sister brand) scooped it up and is planning a show that will follow the home's restoration back to its 70's glory. Can you dig it?
And as our pals at HGTV are probably already researching shag rugs and avocado-colored fridges, we at Food Network would, of course, be remiss if we didn't offer one suggestion — don't forget about the food! This is clearly an opportunity to cook up something totally groovy and recreate the best Brady Bunch food moments. There are just so many memorable food scenes to choose from — did someone say pork chops and apple sauce? We think this is a swell idea; here are the moments we'd start with — and some recipes so you can have a very Brady dinner tonight!
1. Pork Chops and Applesauce
What's for dinner? Pork chops and apple sauce of course! That's the question Peter posed as he impersonated Humphrey Bogart in an attempt to add some flavor to his personaility. We added a bit of flavor to this classic family meal with garlic, sage and a bit of zing from the apple cider vinegar.
2. Marcia's Braces Ruin Spaghetti
Pasta ususally has way of making just about any difficult moment better. But when Marcia is struggling with her new braces, she feels they've even ruined spaghetti! Maybe Mrs. Brady should have tried this spaghetti recipe instead — not even a mouth full of metal could stop us from eating it.
3. Bobby Enters an Ice Cream Eating Contest
In an attempt to prove that he can win at something, Bobby enters himself in an ice cream eating contest. If you're going to win at something in life it might as well be delicious, right? If we were going to enter this contest, we'd request this rich and creamy cherry-chocolate ice cream speckled with the perfect amount of chopped cherries. We know we could eat a LOT of it!
4. Mr. Brady Makes a Mess in the Kitchen
Everyone should know how to make a decadent chocolate cake to impress their party guests. Mike attempts to teach the girls a thing or two in the kitchen (including how to use an electric mixer) and ends up with a kitchen disaster and hardly a cake to show for it. To make sure you don't end up cakeless, we recommend making Tyler Florence's chocolate cake. It's even got "gooey" and "decadent" in the name — so you know you can't go wrong!