4 Mushroom Recipes That Change the Meatless Game
These recipes will blow your meat-loving mind.
Download Food Network Kitchen now to sign up and take advantage of the latest offer and get 40+ live classes a week, hundreds of on-demand cooking classes, in-app grocery ordering and so much more.
Everyone is trying to eat a little healthier these days and one of the ways they're doing it is by eating less meat. But, if you have had one salad too many and are filled to the brim with beans, head to the Food Network Kitchen app to watch our chefs create meaty dishes from the humble mushroom.
"I am a guy that loves big, big sandwiches," says Guy. "But my little sister, Morgan ... taught me to appreciate the vegetarian side of things." Guy got the idea for his fried oyster mushroom burger after tasting a killer deep-fried mushroom sandwich at a DDD-featured joint. "Once you get a bite of this, it's going to change your game," he says. Plus, if you've ever wondered what the heck Donkey Sauce is, he shares the recipe in this video too!
As chef and owner of the cutting-edge vegetarian restaurant Dirt Candy in NYC, Amanda Cohen knows a thing or two about amazing meatless food. "What we like to do at Dirt Candy is have fun with our vegetables," says Amanda. Watch as she transforms king oyster mushrooms into the classic crispy bar snack and serves it with an aromatic harissa dipping sauce. People, this is true cooking magic!
Will portobello bacon replace real bacon? Probably not, admits Jeff Mauro in this class, but it is a great snack and it's great on sandwiches. And, if you're trying to reduce meat in your diet, this method will give you that smoky crunch that no one should have to do without. Watch the video and convert his method to memory.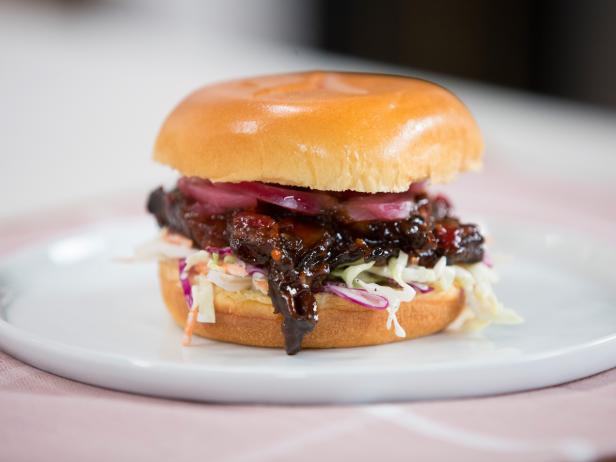 Mushroom Pulled Pork Sandwich was prepared by Chef Stuart O'keeffe. He first starts by adding 2 tablespoons of Olive Oil to his pan. On the portobello mushroom remove the gills with a spoon, lay flat and cut them in about 1/4 inch sizes. Add the mushrooms into the pot when the oil is hot. Let the mushrooms sit there for about 2 minutes until they start to brown before you do a turn. Toss them to allow the ones sitting on the top to get to the bottom and brown as well. Empty the pot of mushrooms into a bowl. Add oil to the pan, add red onions, add garlic, and put the mushrooms back in. Add the Homemade BBQ Sauce to the pan with the rest of the ingredients. Add the coleslaw to the bun, layer with the BBQ mushrooms, and finally, add some pickled red onion on top, and ready to serve, as seen on Let's Eat!, Season 1.
Chef Stuart O'Keeffe swears you will not miss the meat in this recipe. Plus, his mushroom version of pulled pork takes a fraction of the time of real pulled pork. He uses portobello mushrooms for this recipe because they are meaty and look like meat when they cook down. "When this all comes together it looks like barbecued pulled pork," swears Stuart. Give it a try!