How To Make, Master and Mix Up Falafel
Put those chickpeas to good use.
We all know and love falafel. The chickpea fritter can be nestled inside a pita pocket with tahini, served on its own or added to a salad. But what if we told you that deep frying isn't the only way to make them? The Food Network Kitchen app showcases two other types of cooking methods, and hint hint: you'll need a waffle iron for one of them. However, if you've never attempted falafel, let's start with the basics.
Deep Fried Falafel Balls (above)
Cook along with chef Amanda Cohen as she provides the fundamentals of falafel, from toasting your spices to frying them in hot oil. A food processor does most of the heavy lifting for you, but you can certainly make this recipe without one. Amanda's biggest piece of advice, though: There's not one "right" way to make falafel. Her recipe makes it easy to modify to your preference. If you're not a fan of onions, add less onion. If you like more herbs, put in more herbs. More spice, more spice. It's all up to you!
A waffle maker isn't only for sweet breakfast treats. Food Network Kitchen's Sarah Holden uses the kitchen tool to effortlessly make quick, crispy falafel, complete with delicious ridges to hold all the savory sauces like tahini or tzatziki. The best part? It's still tucked inside a pita like you've always imagined it, and the crispy texture will play tricks on your taste buds.
Deconstructed Falafel Salad
Food Network's Claire Thomas shares her method on satisfying cravings for the Mediterranean staple, street food and snack —without the work. Take all of the flavors and turn it into a salad. Instead of mashing the ingredients into a paste, you'll fry the chickpeas to make crunchy croutons. The herbs will act as the salad greens, then you'll toss everything together with yogurt and tahini for a salad that tastes oh-so familiar.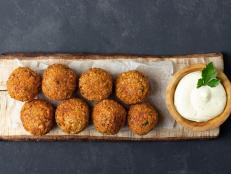 This classic dish is loaded with fiber- and protein-packed chickpeas, but is it good for you?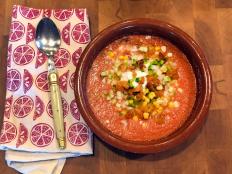 It's summer's answer to the chili bar.