Weeknite Warrior Master Shopping List
Here are all the ingredients you will need to make the recipes featured in the Weeknite Warrior episode of The Kitchen (KC1104H).
Recipes
Pasta al Forno with Chicken Sausage and Rapini
Shop it Don't Chop it Stir-Fry
Mexican "Street Corn" Fajitas Cheat Sheet
Slow-Cooker Golden Chicken Pasta
Sunny's Store-Bought Pizza BBQ Chicken "Pizzaz"
Baking and Staples:
6 tablespoons olive oil
5 tablespoons canola oil
3 tablespoons all-purpose flour
1/8 teaspoon freshly grated nutmeg
1 heaping teaspoon ground cinnamon
1 teaspoon ground cumin
Kosher salt
Freshly ground black pepper
1 tablespoon toasted sesame seeds
12 ounces radiatore pasta
1 pound of your favorite pasta
6 cups cooked brown rice
Six 6-inch white flour tortillas
Two 0.7-ounce packages dry Italian dressing
1 cup mini marshmallows
Snacks:
4 small bags mini graham crackers
Condiments:
1/3 cup Thai sweet chili sauce
Chili oil, optional
1/2 cup BBQ sauce
5 ounces maple syrup
1 jar hot fudge
Dairy and Eggs:
6 tablespoons unsalted butter
3 cups whole milk
2 cups sour cream
1/2 cup freshly grated Pecorino Romano
Parmesan: freshly grated to taste and shaved for garnish
1 cup shredded Cheddar-Jack cheese blend
3/4 cup shredded sharp Cheddar
8 ounces fresh mozzarella
1 cup grated cotija cheese
16 ounces chive and onion cream cheese
2 large eggs
Produce
8 ounces cremini mushrooms
One 8-ounce package sliced mushrooms
1 to 1 1/2 pounds assorted mushrooms
4 cups packed sliced rapini (broccoli rabe) greens
2 cups shredded carrots (one 10-ounce bag)
1 cup fresh arugula
1 jalapeno
Fresh basil
2 cups fresh cilantro leaves
Freshly fresh parsley
8 limes
2 cups diced red bell pepper
1/2 cup corn kernels
5 cloves garlic
1 cup very thinly sliced Spanish onion
Several thin slices red onion
Scallions, for garnish

Meat and Seafood:
1 pound chicken Italian sausage
2 to 2 1/2 pounds boneless, skinless chicken breasts, plus 2 breasts
12 ounces skirt steak
6 slices prosciutto
1/2 rotisserie chicken
Canned Food:
1/4 cup oil-packed sun-dried tomatoes
One 8-ounce can chunk pineapple
1 cup vegetable broth
Two 15-ounce cans golden mushroom soup
Frozen Food:
2 frozen cheese pizzas
1 large frozen sausage pizza
1 cup frozen shredded potatoes
Beverages:
5 ounces fresh apple cider
3 ounces pear puree or juice
5 ounces sparkling clear non-alcoholic cider (or 5 ounces hard cider or pumpkin beer)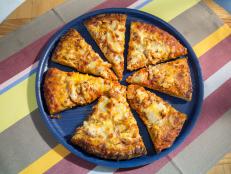 Here are all the ingredients you will need to make the recipes featured in the Weekend Warrior episode of The Kitchen (KC1104H).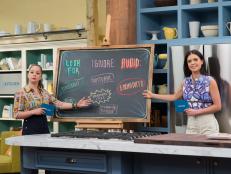 Once again, we've opened our Kitchen Helpline, and this time we've got the answers to your pressing questions about buying chicken. Here's what you want to know!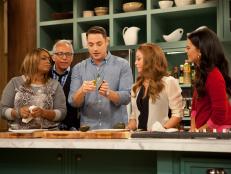 Find out where to purchase the utensils featured on each of The Kitchen's Tool Takedown segments.