Bobby Flay's One Trick for Perfect Fried Eggs
Never worry about breaking a yolk again.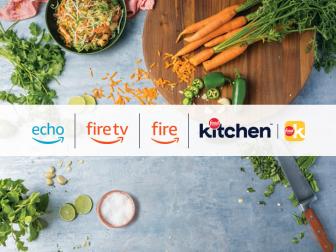 Download Food Network Kitchen to sign up and get access to live and on-demand cooking classes, in-app grocery ordering, meal planning, an organized place to save all your recipes and much more. Own a Fire TV, Fire tablet or Echo Show? You can now get a 1-year complimentary subscription to the app — read here for more details. Terms and conditions apply.
It's brunch time at Bobby's house, and guess what? Brunch burgers are on the menu. They're exactly what they sound like: burgers topped with bacon and fried eggs.
"One of the things I've always eaten is a bacon, egg and cheese sandwich. If you're from New York, you know exactly what I'm talking about it. You get it at your local deli or your local bodega," Bobby explains during his Brunch Burger class on the Food Network Kitchen app. "Combine a bacon, egg and cheese sandwich with your favorite burger and you get a brunch burger."
Every Bobby Flay class on the app is full of smart, easy-to-master tips, and the brunch burger class is no exception. You'll learn how to cook burgers in a nonstick pan and achieve a dark-brown crackly exterior ("gray burgers are in your past," Bobby says), cook bacon to maximum crispness and make perfect fried eggs.
The perfect fried eggs part of the equation has us all ears because we love a good Bobby Flay egg tip. Case in point? The secret ingredient he puts in his scrambled eggs is fascinating. This time, Bobby talks perfect sunny-side up eggs.
In addition to using a nonstick pan and a combination of butter and olive to cook his sunny-side up eggs, Bobby takes an extra precaution to make sure he doesn't crack a yolk.
"Whenever you're cooking eggs, what you want to do is crack them into a ramekin first," Bobby says. "So if I break the yolk, which I do as often as you guys do, I don't break it in the pan. I break it in the ramekin."
Bobby then holds the ramekin an inch or so above the skillet and gently tips the ramekin so the egg slides in.
Bobby continues: "That's a restaurant trick. It just saves you so much trouble."
If you don't happen to have a ramekin lying around the kitchen, a small bowl will do the same trick. Essentially, you're building a safety net into cracking your eggs so you'll get beautiful results every time — whether you're eating them on a plain piece of toast or a giant juicy burger.