This Creamy Vegetarian Pasta Is an Indulgence Made for Weeknights
You can use whatever you have in the fridge in this creamy, veg-forward pasta.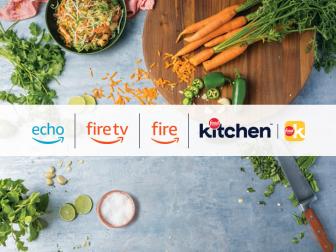 Download Food Network Kitchen to sign up and get access to live and on-demand cooking classes, in-app grocery ordering, meal planning, an organized place to save all your recipes and much more. Own a Fire TV, Fire tablet or Echo Show? You can now get a 1-year complimentary subscription to the app — read here for more details. Terms and conditions apply.
One of the things we love most about springtime cooking is all the fresh produce that becomes available. It's the perfect season for mix-and-match cooking, and pasta is an ideal base for these kinds of recipes.
"I want you to feel inspired by this recipe, I don't want you to feel bound by it," says Rick.
Mushroom lovers rejoice when spring finally arrives. While it may be easy enough to find baby bella, white and button mushrooms year-round, there are a few ultra-seasonal varieties that only make an appearance when warmer weather starts to arrive. Morel mushrooms or porcini mushrooms are some of these varieties that you can find at your local farmer's market and will bring some serious springtime flavor to the dish.
No matter which mushroom variety you choose, Rick says the key to getting the most flavor from them is to get a good sear. In order to achieve this, you want an oil with a higher smoke point that can take a lot of heat. Rick uses an olive oil, but says vegetable oil would also work well here. You'll know the pan is ready to go when you start to see little whisps of smoke from the oil.
Once the mushrooms come together with the greens, herbs and pasta, the dish gets a finishing touch of cream making it a comforting dish that works well for the start of spring when there's still a little bit of chill in the air. Rick recommends giving the dish a few minutes on the stove for the sauce to thicken and the flavors to come together. Finish it off with some extra Parmesan cheese and basil leaves and it's comfort food season spring-edition.