Taste Test: Gluten-Free Burger Buns
We rounded up dozens of gluten-free buns, and these bread winners rose to the top.
Who's got the best burger buns in the gluten-free biz? We rounded up dozens of buns, and these bread winners rose to the top.
Happy Campers (clockwise from top left)
This Oregon bakery packs superfood ingredients like chia, teff, quinoa, amaranth, buckwheat and millet into their vegan Wild Buns, famous for holding up to the juiciest, fully loaded backyard burgers. At 4 grams of protein per bun, you can feel good about going in for seconds. ($6.95 for 4; happycampersgf.com)
It's no surprise that these Whole Grain Hamburger Buns are as airy as Udi's popular sandwich loaf bread. Go ahead and pile on the toppings; this fiber-rich bun can handle it. Plus, the neutral flavor gives you license to mix up your favorite veggie or meat burger ingredient combos without compromising flavor. ($4.50 for 4; udisglutenfree.com)
Colorado bakery Kim & Jake's, named after husband-and-wife owners Kim and Jake Rosenbarger, make their yeast-free, vegan sourdough Herb and Olive Oil Buns with a naturally fermented sorghum starter, flax meal and coconut amino acids. This yields a signature crunchy crust and tender, chewy crumb — perfect for griddled or grilled burgers. Choose from plain, seeded, and herb and olive oil. ($6 for 4; kimandjakes.com)
These squishy, tender Gluten-Free Hamburger Buns are reminiscent of classic white hamburger buns, which is a huge feat when it comes to gluten-free bread. The crumb is somewhat stiff — in a good way. Translation: It won't fall apart under the weight of whatever you're grilling up. ($6 for 4; franzbakery.com)
Serving up sliders? These protein-packed Roasted Sunflower Seed Slider Rolls from founder and actress Jennifer Esposito are light and airy. Despite its size, the bottom bun layer is sturdy enough to soak up all the burger juices. Choose from plain, olive, poppy seed, sesame seed and sunflower seed. ($8.94 for 8; jenniferswaybakery.com)
San Francisco bakery darling Bread Srsly uses traditional fermentation of organic millet, sorghum and arrowroot with a wild sourdough culture, which helps to break down the grains, making them easier to digest and adding that classic sourdough tang. The Sourdough Slider Rolls are also gum-free: Ubiquitous xanthan gum has been replaced with psyllium husk to yield wonderful pockets of airiness, perfect for catching all of those burger juices and your chosen condiments. ($33 for 16; breadsrsly.com)
No need to toast these Whole Grain Hamburger Buns. They are pillowy-soft straight out of the bag. Honey adds a subtle sweetness to an otherwise neutral flavor profile. ($5.79 for 4; threebakers.com)
If you're looking for a softness that squishes down when you take a bite — like those classic sandwich potato rolls — look no further than these sesame-studded, whole-grain Gluten-Free Hamburger Buns. The mild-tasting, slightly sweet bready flavor only adds to their meal appeal. ($5 for 4; canyonglutenfree.com)
Brioche-like in their flavor and their yellow crumb, these Gluten-Free Ancient Grains Hamburger Buns are amazingly rice- and corn-free. Instead, Manini's uses a blend of naturally gluten-free ancient grains, including amaranth, millet, teff, sorghum and quinoa to yield an undeniably buttery-sweet flavor and soft texture. ( maninis.com)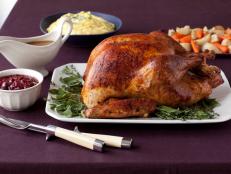 A gluten-free feast is a lot more fun than you might think — Food Network has pumpkin pie, green bean casserole, killer side dishes and more in this ultimate Thanksgiving roundup.