8 Healthy Soups You Need to Make This Fall
All of the comfort with none of the guilt.
It's fall, y'all. With the changing of the seasons often comes the changing of your cravings – fresh watermelon was great in the summer, but colder weather is meant for comfort food. If you're looking for an ultra-satisfying meal that won't leave you in a food coma, curl up with a big bowl of these good-for-you soups. They're cozy, healthy and guaranteed to warm you from the inside-out.
When you're craving those cozy fall flavors, look to Food Network Kitchen's butternut squash soup. This low-cal delight requires just six ingredients – and you probably have most of them in the pantry already. The key to the soup is the squash (obvi): it's simmered in chicken broth, then puréed for a rich, creamy texture.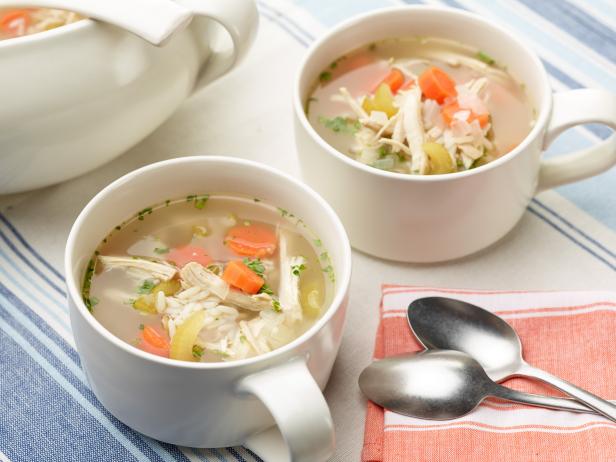 FNK_SimpleChickenSoup_H
Chef Name: Food Network Kitchen Full Recipe Name: Simple Chicken Soup Talent Recipe: FNK Recipe: Food Networks Kitchen's Simple Chicken Soup, as seen on Foodnetwork.com Project: Foodnetwork.com, FN Essentials/Weeknights/Fall/Holidays Show Name: Food Network / Cooking Channel: Food Network
Renee Comet, 2013, Television Food Network, G.P. All Rights Reserved
Chicken soup that's ready in less than an hour? Yes, please! Store-bought chicken broth and water create the base of this protein-packed soup, which gets its warm flavor from hearty veggies and leftover roast chicken. Stir in rice for the last 10 minutes of cooking and you'll have a filling, low-fat soup that's just as soothing as Grandma's.
Ever wonder how Italian Wedding Soup got its name? According to Giada, it's because the flavors of the tender meatballs, light chicken broth and spicy endive marry together so well. Her sugar-free recipe lives up to its name while being friendly to your waistline.
As Ina says, "it's nice to have something that's delicious and good for you." She simmers half of her split peas to form a rich base, then stirs in the rest later – the lesser-cooked peas add a thick, hearty bite that complements the chunks of carrots and potatoes. If you want a soup that's completely vegetarian, swap out the chicken broth for water.
When you need a super-simple dinner that's guaranteed to warm you up, try this Instant Pot black bean soup. The fiber-rich beans are seasoned with spicy cumin and chili powder, then pressure cooked until soft. The best part? There's no need to soak the beans beforehand!
We're not lying – this broccoli cheddar soup is actually healthy. How? The traditional heavy cream and loads of cheese are swapped for fat-free evaporated milk and a small amount of extra sharp cheddar. The end result is a filling, comforting soup that's only 230 calories per serving.
Caramelized onions are crucial to a French onion soup – their gooey sweetness defines the dish. To eliminate much of the butter needed to caramelize, steam the onions first. You'll still have the important flavors, but with significantly less fat. Don't go too heavy on the cheese, either - a light sprinkle of nutty gruyere is all you need to finish off the meal.
Trisha's veggie-packed soup is the ultimate desk lunch. It's easy to make, and the bright lemon flavor will help you power through the afternoon. Bonus: the soup is portioned into individual jars, so it's the perfect grab-and-go option for a busy weekday.