How to Make Perfect Pancakes
Food Network Magazine shows you how to make the best short stack, plus some tasty toppings.
Keep in mind: Price and stock could change after publish date, and we may make money from these links.
Whisk 1 1/2 cups flour, 3 tablespoons sugar, 1 1/2 teaspoons baking powder, 1/2 teaspoon salt and 1/4 teaspoon baking soda in a medium bowl.

Whisk 1 cup plus 2 tablespoons milk, 4 tablespoons melted butter and 1 egg in a separate bowl; fold into the flour mixture until just combined (it's OK if there are some lumps).

Brush a large nonstick skillet or griddle with butter and heat over medium-low heat. Add ¼ cupfuls of batter and cook until bubbly on top and golden on the bottom, about 4 minutes. Flip and cook until golden on the bottom, about 2 more minutes. (Makes 6 to 8 pancakes.)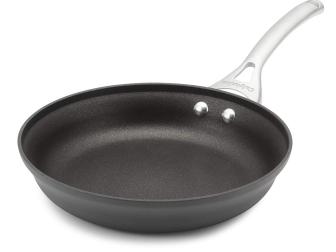 We seared, flipped and scrambled to find our favorite nonstick pans.
Top This! Try one of these fun combos.
Strawberries and Cream
Toss 2 cups chopped strawberries with 1/2 cup brown sugar; let sit at least 1 hour. Top pancakes with the berries and their juices and sour cream; sprinkle with brown sugar.
Double Berry Compote
Simmer 1 1/2 cups maple syrup, 1 cup mixed blueberries and blackberries, and a few slices of ginger, 15 minutes. Off the heat, stir in another 1/2 cup berries.
Marmalade Butter and Yogurt
Melt 1 stick butter in a saucepan with 1/4 cup orange marmalade and a pinch of salt; whisk to combine. Top pancakes with plain yogurt and drizzle with the marmalade butter.
Chocolate-Banana Crunch
Microwave 4 ounces chopped bittersweet chocolate with 3 tablespoons heavy cream and 2 tablespoons honey in 30-second intervals, stirring, until smooth. Top pancakes with sliced bananas, the chocolate sauce and granola.
Bacon-Pecan Syrup
Cook 4 strips bacon until crisp; crumble. Drain all but 1 tablespoon of the drippings; add 1/2 cup chopped pecans and cook 2 minutes. Add 1½ cups maple syrup, the bacon and 1/4 teaspoon cider vinegar; heat through.