Level:

Intermediate

Total:

1 hr 55 min
Prep:

35 min

Cook:

1 hr 20 min
Level:

Intermediate

Total:

1 hr 55 min
Prep:

35 min

Cook:

1 hr 20 min
Garnishes:
Fennel Spice Rub: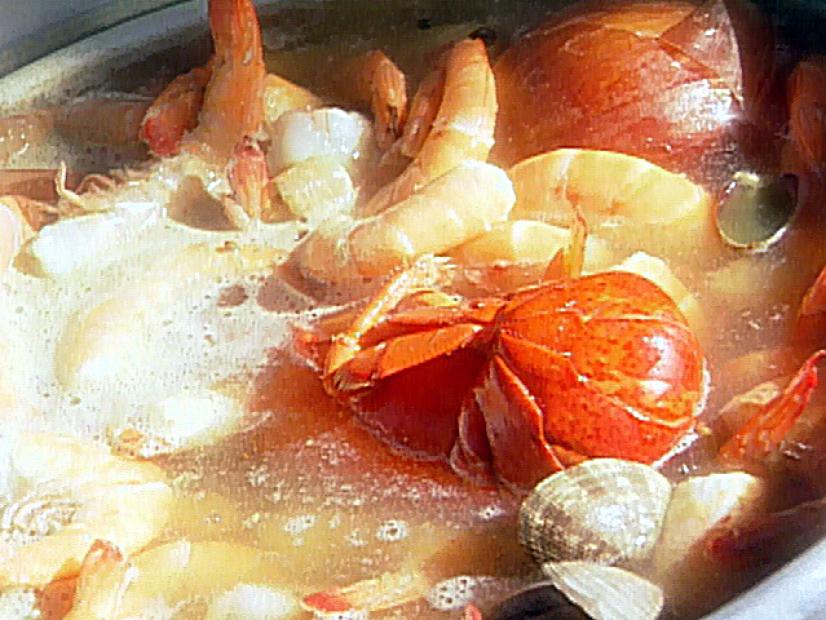 Bring 6 quarts of water to a boil in a large pot. When water is at a full boil, salt generously and then add bay leaves, crab boil seasoning, fennel seeds, peppercorns, red pepper flakes, coriander seeds, and lemons. Return to a boil, add artichokes, and cover. Boil for 10 minutes and then add potatoes and onions; reduce heat to a simmer and return the cover to the pot. Simmer for 5 minutes and then add garlic and wine. Simmer, covered, until artichokes, onions, and potatoes are tender; as they vegetables become tender, remove them to a serving platter (the potatoes should take about 20 to 30 minutes, and then artichokes and onions, about 30 to 40 minutes). 
After you have removed all the vegetables, add the lobsters. Cook just until they begin to turn pink, about 3 minutes. Then add the clams; after 30 seconds, add shrimp. Cook until the shrimp turn pink and begin to curl and the clams open fully, about 5 minutes. 
Cut the onions in half. Cut the artichokes in half and scoop out and discard the chokes. 
Serve the shrimp, potatoes, onions, and artichokes with shallow bowls of melted butter, sea salt, and the Fennel Spice Rub for dipping, and with jars of hot sauce.
Fennel Spice Rub:
This is my favorite spice mixture. There is almost nothing it doesn't taste good on or in. Use it to make spice-encrusted pork ribs, chops, or tenderloin; veal chops; chicken breasts; duck; beef; liver; or eggplant; or add a teaspoon to lentil soup.
Put the fennel seeds, coriander seeds, and peppercorns in a heavy pan over medium heat. Watch carefully, tossing frequently so the seeds toast evenly. When light brown and fragrant, pour the seeds onto a plate to cool. They must be cool before grinding, or they will gum up the blades. 
Pour the seeds into a blender and add the salt. Blend to a fine powder, shaking the blender occasionally to redistribute the seeds. Store in a tightly sealed glass jar in a cool, dry place, or freeze.