Cooking for Real Pot Luck Highlights 
Roasted Tomatillo Salad 02:57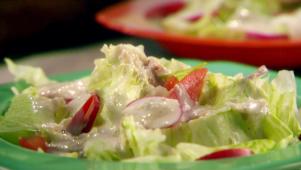 Now Playing
Roasted Tomatillo Salad 02:57
Roasted Tomatillo Dressing transforms a simple lettuce-and-tomato salad.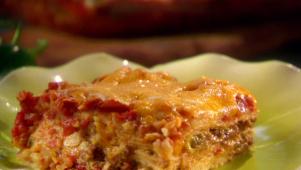 Now Playing
Sunny Anderson's Makes Her Easy, Beefy, Cheesy Enchilada Casserole 04:27
Sunny Anderson walks us through making her easy, beefy, cheesy enchilada casserole. She starts with red sauce by adding tomato paste to a pan with onions, salt and olive oil. She notes you can freeze leftover tomato paste flat in a bag for future use. She has another pan cooking onions, minced garlic, and yellow and green bell peppers, to which she adds a pound and a half of ground beef. She adds onion powder to the beef mix, and adds cumin to both pans. She then adds and mixes in a packet of Sazon to the beef pan. She browns the beef a bit before adding beef broth. She opens a can of crushed tomatoes and adds them to the red sauce. Sunny then seeds and chops up Roma tomatoes for the beef mix. Switching back to the red sauce, she adds salt and beef broth. She starts ladling the sauce into a 13" x 9" glass baking pan. She tilts the pan so the sauce coats the whole bottom. Corn tortillas are laid down on top of the sauce, overlapping a bit. About half the beef is then added on top of the tortillas then topped with shredded cheddar and Monterrey jack cheeses. She then repeats the process with the layers, for a total of two layers of cheese-topped beef and three layers of tortillas. The top of the casserole is then topped off with more cheddar cheese. After baking at 350 degrees Fahrenheit for 30 to 35 minutes, the casserole is set.
Get the Recipe