Good Eats Zen and the Art of Omelet Maintenance Highlights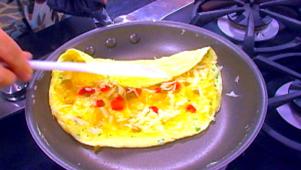 Now Playing
Learn how to cook omelets for a crowd and how to create sensational fillings.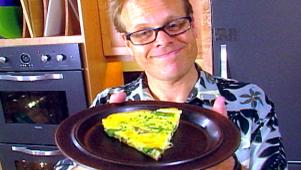 Now Playing
Alton Brown's Hearty Ham and Asparagus Frittata 03:40
The frittata is an Italian omelette that's flat and firm. It's also easy to make with whatever you might have handy in your fridge. Alton Brown shows you how to create one using leftover asparagus, ham, Parmesan cheese and parsley. Set your oven to broil, then heat up your ingredients starting with one tbsp butter in a large flat pan. The amount of ingredients you use depends on how you like your frittata; Alton recommends spreading everything as a single layer on the bottom of the pan. Add your asparagus and ham, and cook until hot. Mix an ounce of grated Parmesan with six eggs and a little black pepper, then pour over ingredients in pan. When egg mixture has firmed up, add parsley, then move pan under broiler for two to four minutes.
Get the Recipe