What Does It Take to Impress Alex Guarnaschelli? The Judge's First Impressions, Plus Lessons Learned
Hear from guest judge Alex as she dishes on the Food Network Star contest, as well as her experience as a competition show finalist.
We're sorry, there seems to be an issue playing this video. Please refresh the page or try again in a moment. If you continue to have issues, please contact us here.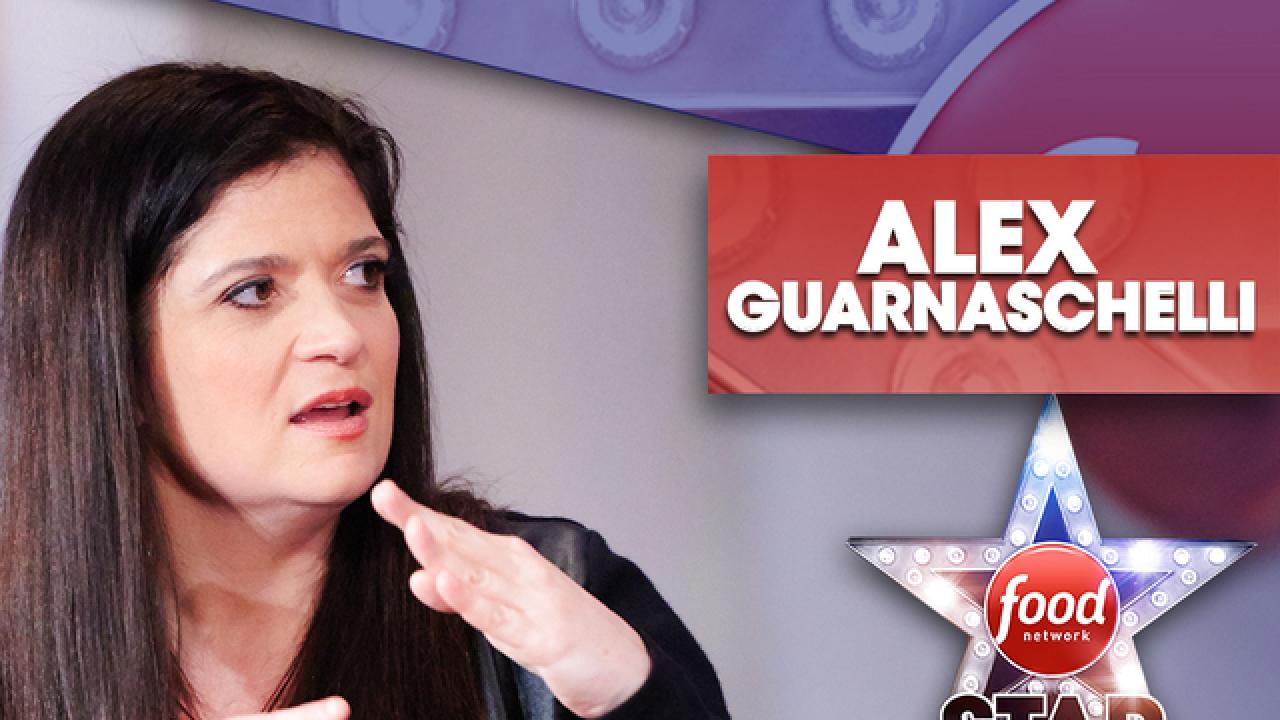 From mentors Bobby Flay and Giada De Laurentiis to guest judges Melissa d'Arabian and Alex Guarnaschelli, the competition was brimming with superstardom this weekend as the finalists endured two rounds of challenges: one to turn leftovers into family dinners and another to bake up savory sweets. Alex was on hand during the Star Challenge's baking task, and in true Chopped judge fashion, she doled out constructive criticism to the 11 remaining rivals and ultimately deliberated with Bobby and Giada about who should go home.
Star Talk recently caught up with Alex to get the dish on her experience both in the judge's seat and in the arena as a contestant. Read on below for an exclusive interview, then click the play button above to get her take on the finalists' best baked offerings.
Not only have you judged competitions before, but you've also competed on Chopped All-Stars, The Next Iron Chef and Cutthroat Kitchen, among other shows. Do those experiences affect the way you look at the finalists who are going through this journey for the first time?
Alex Guarnaschelli: Of course. It's just like being a chef in a restaurant. If you've been a busboy and a dishwasher and a cook and a sous chef, then when you're the chef, you have empathy and understanding of each part that's played to make something successful. The same is true in a competition show. I've competed, I've judged, I've watched, I've cried, I've laughed, I've won, I've lost. When someone walks in front of me and starts cooking, I know already how this is going to go.
The Selection Committee often tells finalists what they ought to do to improve and succeed. But what should they not do in order to get ahead in the competition?
AG: I would list off things Bobby said to me, which was: Do not be untrue to who you are, 'cause it shows in your face. Don't wear an outfit you don't like just 'cause someone told you that it's what you should wear. Don't cook food that you're not comfortable with when you're in front of a camera. Those would be my three big ones, probably.
What's been your greatest lesson learned from all of your shows, all of the competitions?
AG: I think the biggest lesson for me in terms of competition shows is, whenever you go out to compete, there's always a huge pantry. There's a huge pantry, and it's all laid out and it's always beautiful and it's very seductive. And I find that when I don't rely too much, when I don't fall bait to the beauty of 14 ingredients and then make a dish cluttered with ingredients, and I just stay simple and pick a couple of things I cook a lot, it's better. But that is harder; that is easier said than done. Like, it's very seductive, you're like, "Oh, look at these peaches and plums and fiddlehead ferns and ramps." And all of a sudden you have a dish that's like a salad on top of a sandwich on top of a fruit platter on top of a fish, and you blow it.
There's such a focus on POVs on Food Network Star. Do you think there's a particular concept that hasn't been touched upon yet that it's time someone fill?
AG: I don't think Food Network deals in genres in that way. And I think that anybody who's on Food Network Star and understands that Food Network makes stars by planting seeds and growing really nice flowers is going to succeed, so I would say anybody who's truthfully representing themselves and their cooking and what they're talking about and sharing is going to hit a home run.