Bobby Flay's Grilled French Fries 03:00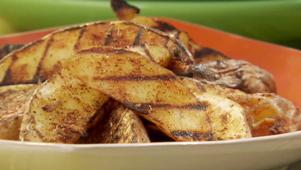 Now Playing
Bobby Flay's Grilled French Fries 03:00
In this Boy Meets Grill video, Bobby Flay shares how to grill French fries, complete with dipping sauces. Bobby prefers to make his grilled French fries with Yukon Gold potatoes. After boiling them, he cuts them into wedges. They are lightly coated with oil and a Mexican spice rub. The wedges are grilled approximately 3 – 4 minutes on each side. He accompanies the wedges with two sauces. One is a Spanish Mayonnaise made with paprika and garlic. The other is a Queso sauce made with flour, butter, jalapenos and various cheeses.
Get the Recipe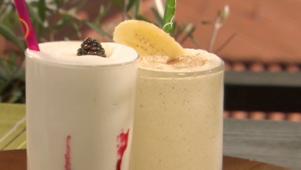 Now Playing
Bobby's Vanilla Milkshakes 02:46
Bobby Flay whips up a vanilla milkshake and a blackberry nutmeg milkshake.