The Two Secret Ingredients You Need for Perfect Korean BBQ at Home
Hint: One can be found in a vending machine.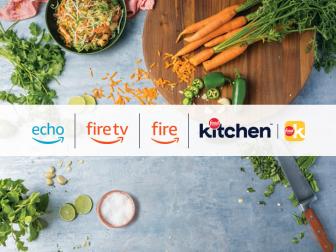 Download Food Network Kitchen to sign up and get access to live and on-demand cooking classes, in-app grocery ordering, meal planning, an organized place to save all your recipes and much more. Own a Fire TV, Fire tablet or Echo Show? You can now get a 1-year complimentary subscription to the app — read here for more details. Terms and conditions apply.
When I was growing up, an electric tabletop grill was a regular sighting at my family dinner table. While it didn't have the charcoal (or the extensive banchan spread) of real-deal Korean BBQ restaurants in Los Angeles (home to the largest Koreatown in the U.S.), it did make quick work of thinly shaved brisket, beef tongue and pork belly, giving rise to the same convivial atmosphere. But there's one type of Korean BBQ that we would typically reserve for the summer months: galbi. Because short ribs are a thicker cut of meat, they don't lend themselves as well to grilling as you eat. You're better off making them on an outdoor grill or on the hottest grill pan you can manage on the stovetop. Since my mom is firmly in the no-recipes camp of home cooks, it has been impossible to nail down a recipe from my childhood summers. For that reason, I was excited to see chef Jet Tila's Grilled Korean BBQ Beef Short Ribs class in the Food Network Kitchen app.
Jet also grew up in L.A. and learned how to make galbi when he was a kid. "One of my good buddies in elementary school was Korean, and I think I was friends with him because I wanted to learn all his mom's cooking tips," he says. One trick that Jet still relies on today is her formula for her galbi marinade, which calls for two secret ingredients: Asian pear and cola. "There are compounds in the pear that tenderize the beef," explains Jet. "Beyond that it gives the meat this beautiful floral flavor." He uses a box grater to grate and juice the pear right into the marinade, which also includes soy sauce, garlic, sesame seeds and oil, and brown sugar. If you can't find Asian pear, he recommends substituting kiwi, which also has those tenderizing compounds. Meanwhile, cola, with its caramel taste and real sugar, not only deepens the flavor of the marinade, but also gives you a beautiful glaze on the beef.
In this class, Jet gives us a lesson on butchery, too. He likes using flanken cut short ribs, which are cut thinly through the bones. This is known as "L.A.-style galbi," and often attributed to the Korean immigrants in Los Angeles who supposedly started using this cut to make galbi. Traditional Korean galbi is made with English cut short ribs, which are cut between the bones and leave a large piece of meat sitting on top of each bone. You can find flanken cut short ribs at Asian grocery stores or ask your butcher to cut them for you about 1/2 inch wide.
Once you add the beef to the marinade, it's just a matter of waiting: Jet recommends 1 to 4 hours max. "I'm not a fan of any longer because you don't want to overmarinate. You don't want to just taste the marinade, you want to taste the marinade and beef together," he says. He then pats the meat dry, a step you shouldn't skip in order to prevent flare-ups and burning. Once the galbi hits the grill, it's ready in mere minutes and can be served as is, or garnished with scallions and sesame seeds a la Jet, alongside steamed white rice and kimchi. The only way to improve on this already perfect summer meal might be to make your own kimchi — once you've mastered Jet's galbi, chef Hooni Kim's Kimchi class should be next in your queue.