Here are 6 must-try spots for an ultimate Texas barbecue tour, plus where to find great Texas 'cue outside of the Lone Star State.
Here are 6 must-try spots for an ultimate Texas barbecue tour, plus where to find great Texas 'cue outside of the Lone Star State.
Best known for: beef (brisket, beef ribs, link sausage)

Wood choice: oak wood, post oak
www.woodshedsmokehouse.co
Sauce style: tomato-based, with spice, sweetness and tang

Expert take: Texas barbecue is all about the meat, mainly because of the state's long history of cattle ranching. In central Texas, the Hill Country, post oak wood is often used for smoking, as it grows freely. Says Elizabeth Karmel, executive chef of Hill Country Barbecue, on bringing Texan fare to the rest of the country: "What makes Hill Country Barbecue Market unique in New York City and D.C. is that we celebrate and emulate the time-honored barbecue traditions of central Texas. We want our customers' experience to be transportable. That means adhering to as many of the authentic traditions as possible, including smoking with indigenous post oak wood, which gives our barbecue that distinctive central Texas flavor. Because we are located outside of Texas, it requires that we truck the wood in weekly [from central Texas] to our locations in the Northeast — but it is well worth it!"
Elizabeth Karmel, Executive Chef, Hill Country Barbecue

Woodshed Smokehouse
As a native and proud Texan, Tim Love has a barbecue style that certainly draws from the Lone Star State's; for proof, just look at his often-used Badass Rub, made with guajillo chiles, cumin, garlic powder, brown sugar and rosemary. His love for BBQ and cooking over live fire is embodied at his newest restaurant, Woodshed Smokehouse, located on the banks of the Trinity River, where he grills, roasts and slow-cooks a rotating variety of meat (plus fish and wild game) and vegetables over an array of wood and fire sources. His take on barbecue is twofold: traditional and new, with a nod to Mexico. Look for everything from beef ribs and brisket to chicken-skin tacos and 16-hour smoked beef shin on his menu.
Woodshed Smokehouse, 3201 Riverfront Dr, Fort Worth, TX; (817) 877-4545

Franklin Barbecue
Franklin began, as many barbecue restaurants do, with a family history. Aaron Franklin, born into the business, runs his Austin restaurant with his wife, Stacy. They opened their doors in 2009 to much acclaim, and long lines of patrons soon formed. Best known for their brisket, Franklin starts with hormone-free beef, rubbed with salt and pepper, and smoked for up to 18 hours over post oak. The result is a juicy, fatty slice of goodness, served with a side of white bread, slaw, pickles, potato salad and beans. Banana bourbon pie is served for dessert, and all the beer for sale is brewed in Texas.
Franklin Barbecue, 900 E. 11th St., Austin, TX; (512) 653-1187

The Salt Lick
Open since 1967, The Salt Lick defines Texas not only in the quality and authenticity of the barbecue served, but also by the enormity of its huge space in Austin, where the Roberts family serves hundreds (and sometimes thousands) of hungry diners daily at their original and sprawling Driftwood location. According to The Salt Lick, they cook over 750,000 pounds of brisket and 350,000 pounds of pork ribs per year, smoking and roasting to various temperatures depending on the meat. They are best known for their beef brisket (with famous burnt ends) and enormous and meaty beef spareribs, (which Bobby Flay proclaimed as "the best thing I ever ate") — both available by mail order.
The Salt Lick, multiple locations

Pecan Lodge
Owner Justin Fourton made a name for himself early on at Pecan Lodge, one of the newer barbecue joints in North Texas. He and his wife Diane left their corporate jobs and started a catering company, which led to Justin smoking meat, and the rest is history. Soon after the Fourtons opened their doors in 2010, patrons lined up for the fried chicken and stuffed sweet potatoes (aptly named the "Hot Mess"), and the lines haven't dwindled since. With pork links, pork ribs and pulled pork among the most-popular menu items, it should be noted that the brisket is deservedly award-winning. Don't miss some of Texas' best mac and cheese (made with bits of bacon and green chile) and homemade banana pudding.
Pecan Lodge, 2702 Main St., Dallas, TX; (214) 748-8900

Cooper's
Somewhat synonymous with Cooper's, a stalwart in Llano, Texas, is their signature dish, The Big Chop: a massive barbecued pork chop, salted and peppered to legendary status. Cooper's uses a direct-heat method of cooking their meat, "cowboy-style" over coals, before finishing it in a smoke-filled pit. The Big Chop aside, Cooper's also serves mesquite-smoked brisket, cabrito (roasted goat) and sirloin steak. The jalapeno mac and cheese is a standout, as is the homemade cobbler (peach, blackberry and pecan are among the flavors), at this old-time pit barbecue joint.
Cooper's, multiple locations

Angelo's Bar-B-Que
At Fort Worth institution Angelo's Barbecue, open since 1958, longtime patrons know to arrive early and often opt for the rib-and-brisket combo plate — served with slaw, beans, potato salad, pickles, onion and bread to soak up the hickory-smoke flavor of the juicy brisket and fatty ribs. Turkey, chopped beef and sausage are also on the menu, which hasn't changed all that much over the years. And considering that this now-famous barbecue joint started out as a beer hall, it's only fitting that owner Angelo George has great suds on tap at his family-run restaurant.
Angelo's Bar-B-Que, 2533 White Settlement Rd, Fort Worth, TX; (817) 332-0357

Plus: Where to Find Texas-Style BBQ Outside of Texas

It's not every day that a roadhouse restaurant opens in New York City, and years after Hill Country's opening (and later expansion to Brooklyn and Washington, D.C.), Elizabeth Karmel's Texan fare still draws crowds in search of her signature Texas beef, sides and red velvet cake. While NYC may not represent the BBQ community, there's no shortage of barbecue in the city, and among the best brisket served is Karmel's, along with huge, messy beef ribs, served on butcher paper with sides.
Hill Country, multiple locations

Continue the road trip: Check out Memphis, Kansas City and Carolina 'cue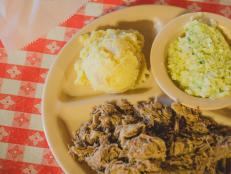 Here are 5 must-try spots for an ultimate Carolina barbecue tour, plus where to find great Carolina 'cue outside of the Carolinas.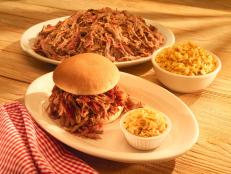 Regional Barbecue Road Trip: Memphis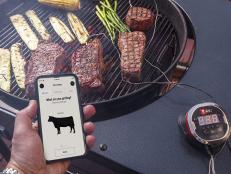 Ready to make the move from basic grilling tools to serious grill-master gear? We've got your back. Check out these next-level grill accessories.