Ramps are a true farmers' market treasure. A member of the garlic and onion family, they're only available for a short time in the spring.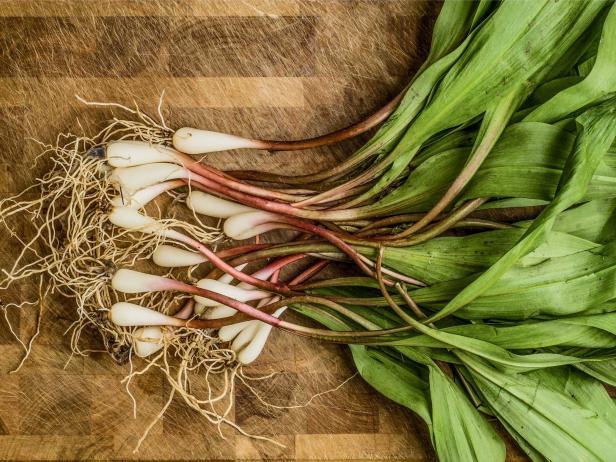 Ramps
These powerfully pungent alliums are halfway between a leek and garlic, and only appear in the spring, growing in the wild near forest streams at higher altitudes. Foragers hunt them like hillbilly truffles, and restaurants such as Knoxville's J.C. Holdway are experts at harnessing the strong flavors to create delicate dishes that lure rabid ramp fans. In the home kitchen, fry up some Benton's Bacon and then cook sliced potatoes and ramps in the bacon grease for a doubly authentic taste of Appalachia.
A true sign of spring, this specialty produce can only be found for a limited time.
Lovers of this spring goodie are fans of its fresh onion and garlic flavor. Cooking will mellow out the pungent flavor of a raw ramp.
A serious farmers' market treasure, ramps are harvested through the spring and early summer– look for them at markets from April through May or early June.
Ramps are low in calories (about 50 per cup) filled with vitamins like A and C. Members of the Allium family are also known for their antioxidant content as well as their ability to help lower blood pressure and cholesterol.
Ramps can be enjoyed raw or cooked. They will add an essence of delight to a spring vegetable salad, especially when topped with a sherry vinegar dressing. Whirl into pesto, pickle in a salty brine, or finely chop and sprinkle over risotto or pasta primavera.
Grill or sauté and add to scrambled eggs and pizza, or puree into soup or salad dressing.