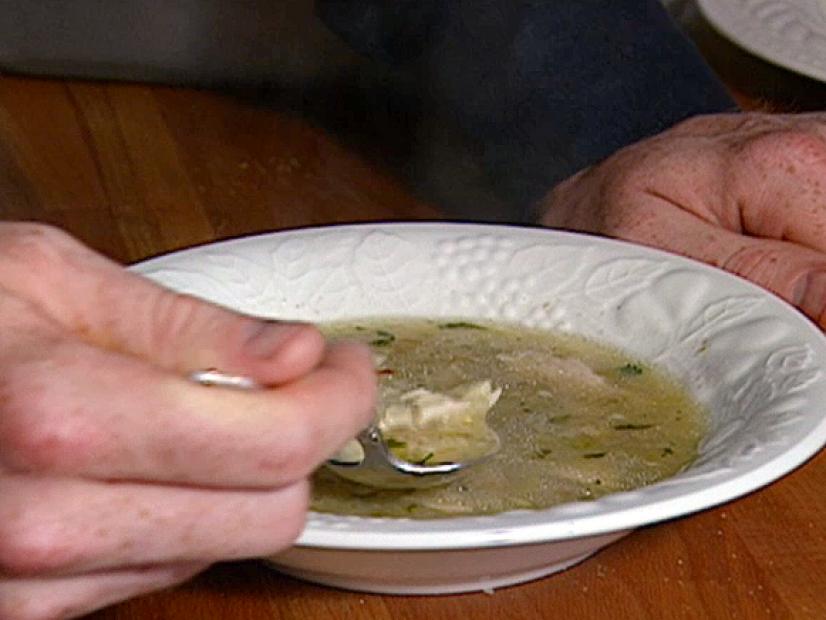 Cook the chicken slowly in 4 quarts of water (or to cover) for 1 hour. Add the vegetables and cook for another 1 hour, then add the lovage and lemon and continue to cook slowly until the chicken is very tender and falls away from the bones. The broth should never boil.
Strain the stock. Discard the vegetables, herbs and lemon. At this point the stewing chicken has lost its nutrients and taste, discard it.
Return the stock to the pot and add the saffron. Cut the kernels from the ears of corn. It is important to get the most "milk" from the corn, so cut the corn with a sharp knife (not too close to the cob) and go back over the cob with the flat of the knife to release the "milk". Add the corn to the broth and saffron. Add the celery. Season with salt and pepper to taste. Add parsley and simmer until the celery is tender.
Break 6 of the cobs in half and cover with water. Add 2 whole chicken breasts and simmer with the cobs until the meat is tender, about 30 minutes. Remove the breast and strain the "cob water" into the soup. Remove the skin and bone from the chicken breasts. Cut into bite sized pieces and add to the soup. Correct the seasoning if necessary. Add the rivels to the simmering soup and cook until they are tender.
Sift the flour into a bowl with the salt. Make a well in the center. Whisk the eggs until light colored and add the water. Pour this into the well and stir to form a stiff dough. Break off piece of dough and dip into flour. Shape in hand into tiny strings of dough. Spread the crumbs on a cookie sheet or clean cloth to dry.