Level:

Easy

Total:

1 hr 55 min
Level:

Easy

Total:

1 hr 55 min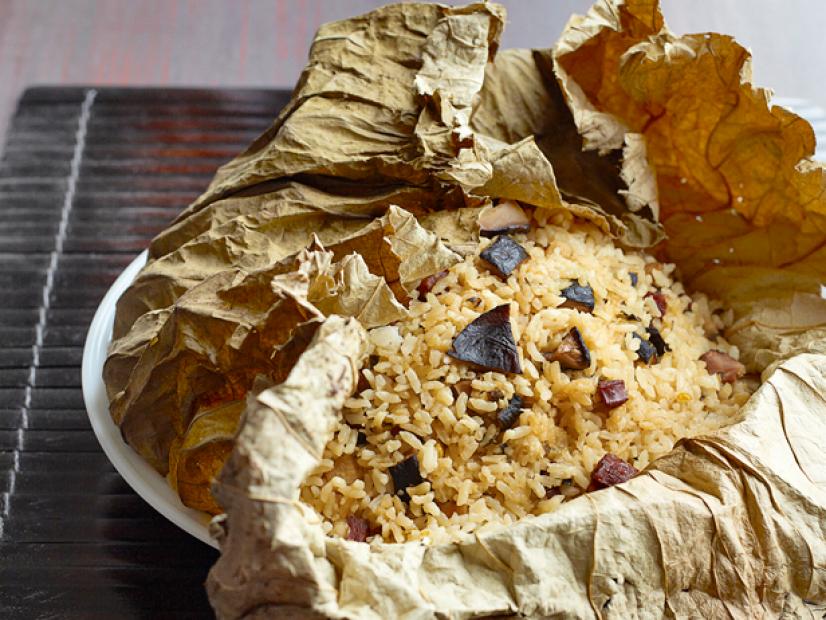 Cook the rice as the label directs. Spread out on a rimmed baking sheet and let cool.
Soak the lotus leaf in a roasting pan with warm water until pliable, about 1 hour. Soak the mushrooms in a bowl with 2 cups warm water until softened, about 30 minutes. Drain the mushrooms, reserving the liquid, and dice; discard the stems.
Heat the peanut oil in a large skillet over high heat. Stir-fry the sausage until golden, about 3 minutes. Add the scallions and ginger and stir-fry 30 seconds. Season with salt and pepper. Add the jicama and mushrooms and cook until just soft, 2 to 3 minutes. Add the mushroom soaking liquid, soy sauce and Worcestershire sauce; simmer, stirring, until the liquid is reduced, about 4 minutes.
Toss the rice, sesame oil and vegetable-sausage mixture in a large bowl. Center the lotus leaf in a microwave-safe pie dish. Mound the rice mixture in the center and pat firmly. Fold the leaf over to cover and secure with toothpicks. Cover the lotus leaf with a damp towel. Wrap the dish tightly with plastic wrap and microwave until warm, about 15 minutes. Unwrap and scoop out the rice.