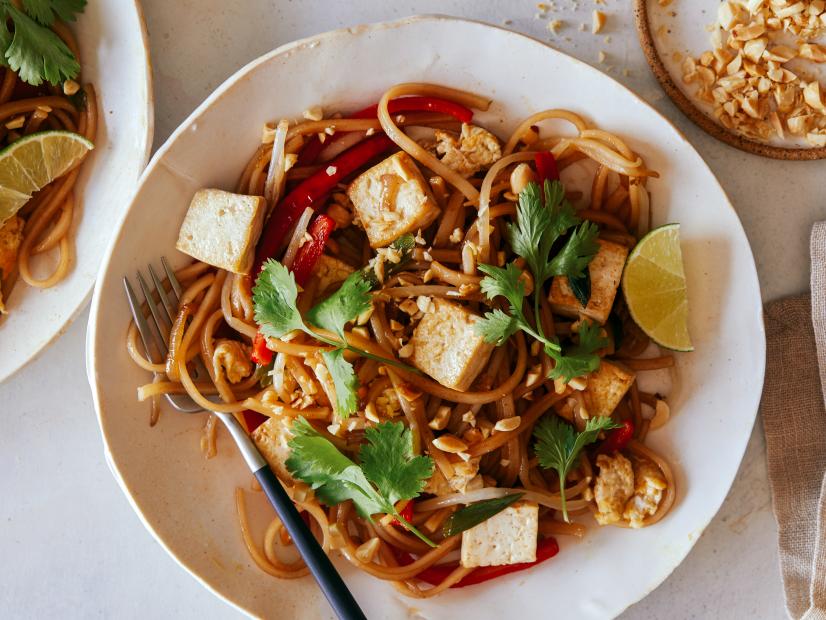 For the noodles: Cook the noodles according to the package instructions.
For the sauce: Stir together the fish sauce, brown sugar, tamarind, sriracha and lime juice in a small bowl until well combined.  
For the stir fry: Heat the oil in a large nonstick skillet over medium heat. Add the tofu and shallots and cook, stirring occasionally, until lightly browned, 4 to 5 minutes. Push the tofu and shallots to the side, allowing the excess oil to drip down into the middle of the skillet. Add the beaten egg to the skillet and cook, stirring occasionally and chopping to break up, until cooked through, about 30 seconds. Add the peppers to the skillet and cook just to soften slightly, about 2 minutes. Add the noodles, bean sprouts, scallions and sauce to the skillet. Combine the tofu and egg into the ingredients and stir fry, coating the ingredients with the sauce, and simmer to thicken, 3 to 5 minutes.  
Pile the stir fry onto a serving plate and top with chopped peanuts and cilantro leaves. Serve immediately with lime wedges.
Pad Thai cooks up very fast one you get the heat going. Be sure to have all your ingredients cut and measured out and your sauce mixed before you start cooking. Tamarind paste is a puree of the fruit without the seeds and fibers. You may also find tamarind concentrate, in which case you'll want to dissolve it in 1 tablespoon of hot water first. If you have thicker, large scallions, slice them in half lengthwise before cutting into pieces.