7 Hot Dips to Kick Off Fall
Whether you're gathering friends and family together for game night or for game day, break out your favorite baking dish and make a hot dip your go-to appetizer. Though we love cold chip accoutrements like guacamole or layered dips with fresh veggies, there's nothing quite as satisfying as a perfectly crunchy chip topped with oozing cheesy goodness. As easy as they are to blend and bake, these hot plates will have everyone hovering around the snack table until the last chip is gone.
Artichokes get a lot of love in cheesy dips, though you might forget there are vegetables involved when bacon gets into the mix. Giada De Laurentiis blends bacon into this warmed dip and crumbles it on top for bursts of savory flavor and crispy texture. And with a base of creamy mascarpone cheese, there's no melt time needed. Just bake for 10 minutes to warm the dish through.
Of course, you can't go wrong with the classic combination of artichoke and spinach. Food Network Magazine's Hot Artichoke-Spinach Dip recipe adds layers of flavor with cannellini beans and chicken broth in the cream cheese base and boosts the green factor with fresh basil.
If you love hot wings with sides of celery and blue cheese, put it all together in a seriously delicious dip. In addition to featuring all your favorite game-day flavors, this meaty dip requires only five ingredients and is a great way to use up leftover rotisserie chicken.
For fans of a chunkier dip, Ree Drummond's Hot Corn Chile Dip offers a fun and colorful mix of grilled corn, jalapenos, peppers and green chiles in every bite. This dip takes a bit longer to prepare, but it's a great dish to make ahead and will keep in the fridge for up to 48 hours before being baked.
In Food Network Magazine's Baked Goat Cheese Dip, the simple goat cheese base pairs perfectly with a fresh garnish of tomatoes, chives, garlic and vinegar. And you can leave your chips behind — slice up and toast a baguette to bear the cheesy load.
Cheesy Poblano Artichoke Dip
02:32
Marcela makes a cheesy poblano artichoke dip that's perfect for a party.
Kick up your artichoke dip with the smoky taste of charred poblano peppers (or your favorite chile) and sauteed onions in this recipe from Marcela Valladolid. Make sure to leave the peppers out of the processor until the end to keep the dip chunky. Bored with tortilla and pita chips? Try serving this one with chicharrones (fried pork rinds)!
Matt Armendariz, 2014, Television Food Network, G.P. All Rights Reserved
This buttery shrimp dip is less cheesy than other dips (though it's still amply loaded with cream cheese) but just as comforting, with the distinctive flavor of spicy shrimp dishes from New Orleans. Since the mixture needs time to chill before baking, plan to make this ahead of time — it's worth the wait.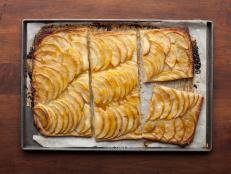 Celebrate the very start of the season with our favorite desserts starring apples, each with a stunning 5-star rating.