Dishes That Don't Require Any Cleanup
OK, as little as possible — ain't nobody got time for doing dishes.
Cooking dinner every night of the week is no joke. It requires planning and shopping and then actual cooking. But as time-consuming as those tasks can be, they aren't that bad, IMHO. No, the worst part is the cleaning.
So, recipes that come together in only pot or rely solely on foil? Sign me up.
There's no denying the Instant Pot's ability to make weeknight cooking practically effortless. While I love myself a good slow cooker recipe (throw everything in, set it, forget it and clean up one big bowl), using one means I need to have a game plan at least eight hours in advance. But you can pull out the Instant Pot 30 minutes before dinner, cook up a complete meal and still have minimal dishes. This Instant Pot Salmon with Garlic Potatoes and Greens will taste and look like you spent a lot more time on dinner than you really did. (We won't tell.)
With this Creamy Skillet Chicken recipe, you'll get juicy chicken breasts, creamy spinach and warm egg noodles all from one, you guessed it, skillet. It sears, sautes, simmers and steams. You'll hardly need to lift a finger!
Confession: Sometimes I let my kids eat nachos for dinner because I'm too lazy to fight with them about what they're willing to eat for dinner. Taking that easy way out also means all I have to clean up afterward is one plate per kid. But now I'm rethinking that completely, thanks to these grill-friendly nacho packets. Everyone can customize their meal to their own liking, and I won't even have to clear plates when we're done. Throw the foil in the garbage and the dreaded "clean the kitchen" chore is done in seconds.
If you usually save dessert for the weekend, because it's too hard to make an extra dish, you don't think you "deserve" dessert midweek, whatever, think again: You'll dirty only one 9-by-13-inch dish making one of The Pioneer Woman's Dump Cakes, and you always deserve a treat.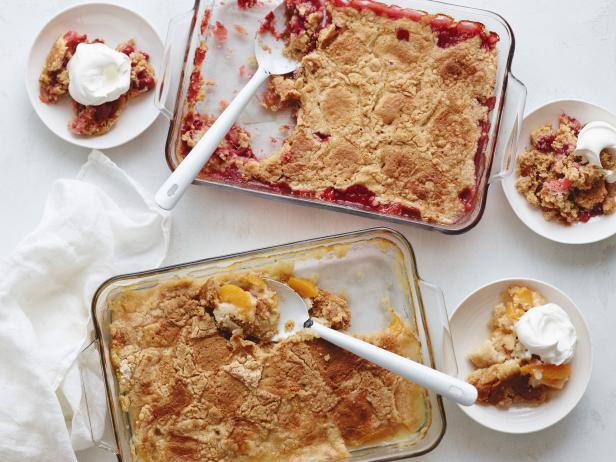 DUMP CAKES , Ree Drummond, The Pioneer Woman/Working Calves at Tim's, Food Network,Cherry Pie Filling, Crushed Pineapples, White Cake Mix, Butter, Canned Peaches, WhippedCream,DUMP CAKES , Ree Drummond, The Pioneer Woman/Working Calves at Tim's, Food Network, Cherry Pie Filling, Crushed Pineapples, White Cake Mix, Butter, Canned Peaches, Whipped Cream
Matt Armendariz, 2014, Television Food Network, G.P. All Rights Reserved