4 Fun Ways to Upgrade Your Guacamole This Cinco de Mayo
We love the traditional version, but can't resist a twist on the classic.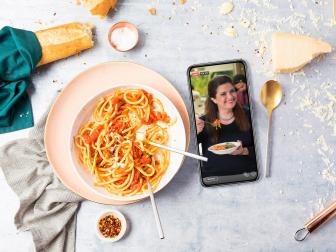 Download Food Network Kitchen to sign up and get access to live and on-demand cooking classes, in-app grocery ordering, meal planning, an organized place to save all your recipes and much more.
There's an alchemy that happens when avocados meet salt and acid. It's called guacamole, and it wouldn't be Cinco de Mayo (at least in the U.S.) without this ever-popular dip. While chef Rick Martinez's recipe is a great place to start for a traditional recipe (don't miss his Introduction to Mexican Cooking course in the Food Network Kitchen app!), we're all for playing with the formula, especially now that we're all experimenting with ingredient substitutions at home. Here are four inspired ways to take your guac to the next level.
If you're a fan of tomatoes in your guac, try reaching for another fruit: ripe, juicy pears. Any variety works here, creating a welcome sweet counterpoint to the savory dip. Roasted pistachios also deliver just the right amount of crunch and give the guac a rich, buttery finish.
Don't have quite enough avocados for guacamole? Stretch them with fresh or frozen peas a la food writers Amanda Hesser and Merrill Stubbs. The springtime vegetable adds a wonderful seasonal twist without taking away from the classic.
No tortilla chips? No problem! Try chef Stuart O'Keeffe's favorite serving vehicle for guacamole: homemade cheese crisps. The two-ingredient wonder couldn't be easier to make: all you need is shredded Cheddar and taco seasoning. A quick turn in the oven, and you'll be rewarded with lacy, perfectly salty "chips" for your guac.
Can't decide between chips and dip and avocado toast? Put the two beloved dishes together for the ultimate mash-up: guacamole bruschetta. Topping garlic-rubbed toasts with guac is a genius move from chef Kelly Senyei's playbook. Bonus: It's an excellent way to use up any stale crusty bread in your kitchen.
Whichever way you choose to guac this Cinco de Mayo, we highly recommend washing it down with an ice-cold margarita. Ever since we tried the classic Tommy's Margarita — the Platonic ideal of margs, courtesy of craft cocktail pioneer Jim Meehan — we've never looked back.