How to Find Healthy Food at Fast Food Places
Yes, you can have that burger.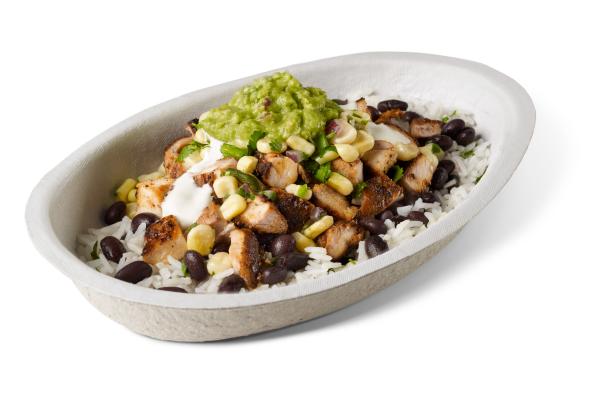 Chipotle: Chicken Burrito Bowl
We were relatively surprised to discover that it's not the Burrito but rather its lower-carb alternative, the Burrito Bowl, that tops the popularity chart at Chipotle. Specifically, it's the Chicken Burrito Bowl — a flavor festival of rice, beans, fajita veggies and other essentials, such as salsa and sour cream (and guac, if you're willing to cough up the extra $1.95), united around a foundation of smoky, spicy adobo grilled chicken that's deliciously charred for subtle caramel flavor.
Fast food may have a reputation for being greasy and fatty, but these days more and more healthy options exist. It helps to track down the more nutritious orders ahead of time, and to have a few strategies going into the restaurant. "We advise our clients to avoid fried options, including tortilla chips and French Fries, as well as sugary choices like sodas and pastries," say Lyssie Lakatos, RDN, CFT, and Tammy Lakatos Shames, RDN, co-authors of The Nutrition Twins' Veggie Cure. "We also tell them to check the nutrition facts to avoid salty items, as some seemingly healthy meals can exceed the recommended maximum daily allotment for sodium." Also a good idea: Choose grilled or baked options whenever possible, and add in as many extra vegetables as you can get your hands on. Here are the top five healthy fast-food orders that registered dietitians recommend.
"With more than ⅔ of Americans overweight or obese, this weight-conscious option is only 325 calories — whereas many fast-food meals have more than 1,000 calories," say Lakatos and Lakatos Shames. "By customizing your bowl, you'll keep the sodium and saturated fat down. Plus, the chicken and black beans contribute satisfying protein, while the beans also add fiber and phytonutrients." You can request a half a serving of the salsa to keep the sodium in check. And always request extra lettuce!
"I typically enjoy this wrap for breakfast, especially when I am on the go," says Toby Amidor, MS, RD, author of The Healthy Meal Prep Cookbook. The meal has just 280 calories, yet offers 4 grams of fiber and 20 grams of protein. These nutrients help to keep you fuller for longer. "Plus, the wrap provides four food groups: dairy, lean protein, vegetables, and whole grains," says Amidor. "These contribute numerous nutrients that my body needs, including calcium and potassium. These are under-consumed nutrients by Americans, according to the 2015-2020 Dietary Guidelines for Americans."
"When burgers are the only thing on the menu, I opt for a lettuce-wrapped beef burger with tomato, onion, and guacamole," says Elizabeth Shaw, MS, RDN, CPT, a dietitian in San Diego. As is, the burger contains 420 calories, but you can order it without mayo to save some calories and also ask for fewer pickles to reduce the sodium. You do want to opt for heart-healthy fats, though. "It's worth paying extra for guacamole, as avocado provides healthy fats and fiber to help keep me fuller for longer," says Shaw.
This is a go-to order for Lakatos and Lakatos Shames. "The vegetables supply vitamins, anti-inflammatory phytonutrients and fiber," they say. "And the lean chicken provides a good dose of satisfying protein to stave off hunger while keeping the calories low." The meal contains just 390 calories, along with 6 grams of fiber and 47 grams of protein.
Nutrient-rich plant-based eating is so in right now! "Taco Bell offers vegetarian options, including this bowl, which I choose when I'm on the road," says Amidor. "It includes black beans, reduced-fat sour cream, cheese, seasoned rice, guacamole, pico de gallo, and avocado ranch sauce for 480 calories." But nothing is set, since you can modify your order to your liking. "I will order it without the sour cream for 20 calories less," says Amidor. The bowl is an excellent source of both protein and fiber, offering 13 grams of fiber and 14 grams of protein.
Amy Gorin, MS, RDN, is a registered dietitian nutritionist and owner of Amy Gorin Nutrition in the New York City area. She's a regular contributor to many publications, including EverydayHealth.com, ReadersDigest.com, NBCNews.com, and more. She also pens a recipe-focused blog, Amy's Eat List, where she shares easy, healthy recipes.