How to Season a Cast Iron Skillet
And what does it mean to season cast iron, anyway?
We're sorry, there seems to be an issue playing this video. Please refresh the page or try again in a moment. If you continue to have issues, please contact us here.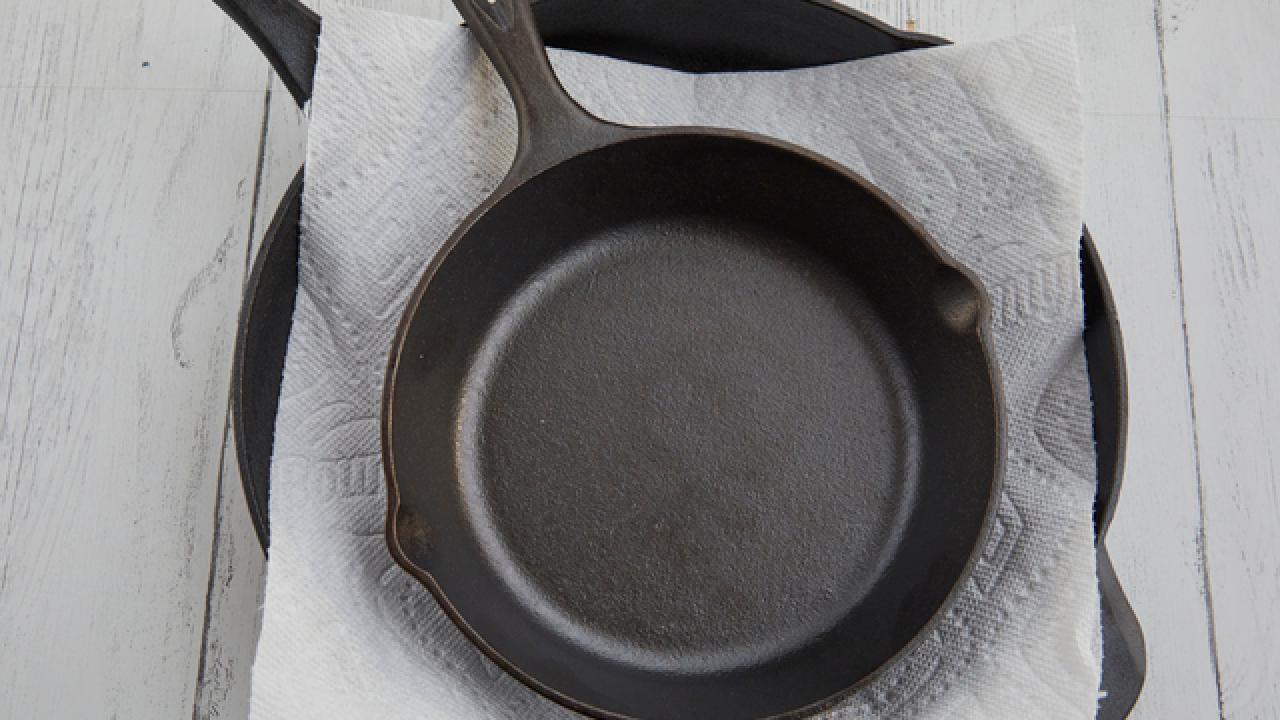 If you care for your cast-iron pan, seasoning it correctly, it will return the favor with a lifetime of delicious meals. These heavy, forged skillets are the workhorses of the kitchen. They're durable, affordable and perfect for a variety of cooking techniques. You can sear, fry, bake, roast, braise and more in these versatile pans! Don't own a cast-iron skillet but looking to invest in one? Check out our story, Amazon Shoppers Are Obsessed with this Cast-Iron Skillet.
What Does Seasoning Mean?
Seasoning refers to the hard, practically nonstick surface coating your cast iron pan. Most cast iron skillets these days come pre-seasoned, meaning they're ready for cooking on as soon as you take them out of the box. However, over time, the seasoning erodes, and you'll need to re-apply it by brushing the skillet with a thin layer of neutral oil and heating it until the oil bonds to the metal. You'll know the seasoning has eroded when the surface looks dry and patchy in spots, but it's a good practice to season your skillet every so often before the seasoning starts to break down.
How to Season a Cast-Iron Skillet
1. Rub the Pan with a Thin Film of Neutral Oil
First, using a paper towel, coat the pan with a neutral oil like canola or vegetable oil (including the bottom and handle of the pan). Wipe away all excess oil so no pooling oil is visible — the oil should just coat the metal. The pan should feel practically dry to the touch. Using too much will cause your pan to become sticky.
2. Bake the Pan for 1 Hour
Bake upside down in the oven at 350 degrees F for 1 hour (line the rack below with foil to catch any oil drips). This will protect the surface and give it an almost nonstick quality. Some people tout another seasoning method: heating the pan on the stove. However, we think this method creates hot and cool spots, making for uneven seasoning. Use the oven for more even results.
3. Cool the Pan In the Oven
Turn off the oven and let the pan cool in the oven before touching.
4. Repeat These Steps for an Unseasoned or Stripped Pan
If you're starting seasoning from scratch, you'll want to repeat these steps multiple times until a smooth finish develops. Resist the urge to simply slather on a lot of oil, which will become sticky. Good seasoning is made from many thin layers.
What to Cook In a Cast-Iron Skillet to Preserve the Seasoning
Cast-iron skillets retain and distribute heat very well, so they're perfect for searing and frying.
They Can Be Used on Any Type of Heat Source
Cast-iron can be used on virtually every type of heat source such as induction, electric, gas and grills. Always give your pan a few minutes to preheat before adding any food. You can use any utensils — even metal — on cast iron. There is no chemical coating to damage. And it can go from the stovetop right into the oven — and then to the table!
Acidic foods like tomatoes, citrus and vinegar can strip the seasoning from your pan and make foods taste metallic. Wait until the pan is highly seasoned to cook acidic foods in it — or just avoid them.
Season Your Skillet As You Cook
Using your pan to cook foods with a lot of oil or fat — like frying chicken or cooking bacon — is really good for it. It helps build and preserve its seasoned coating naturally.