Level:

Easy

Total:

2 hr 15 min
Level:

Easy

Total:

2 hr 15 min
For the broth:
For the soup: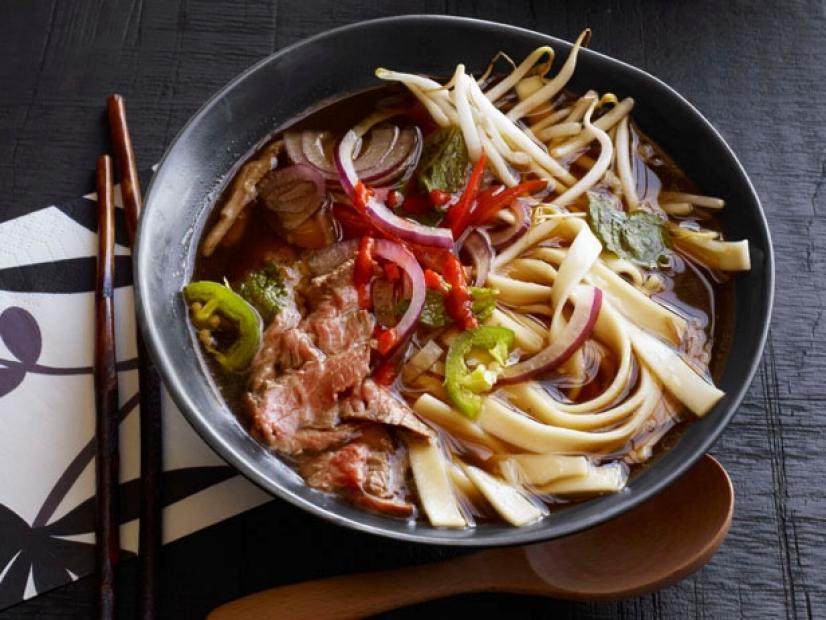 Make the broth: Position a rack in the upper third of the oven and preheat to 450 degrees F. Toss the beef shanks, onions, ginger and garlic with the vegetable oil on a rimmed baking sheet and season generously with salt. Roast, turning once halfway through, until the meat and vegetables are slightly charred, about 30 minutes. Transfer to a large pot.
Meanwhile, toast the cinnamon sticks, star anise pods and peppercorns in a small skillet over medium heat, shaking the pan, 5 minutes.
Add the beef broth, 2 quarts water, the toasted spices and the fish sauce to the pot with the beef shanks. Bring to a boil, then reduce the heat to maintain a gentle simmer. Cook, skimming off any foam that rises to the top, until the meat is tender, 1 hour to 1 hour, 30 minutes. Remove from the heat and transfer the beef shanks to a cutting board; strain the broth through a fine-mesh sieve into another large pot. (The broth can be made up to 2 days ahead; let cool, then refrigerate in a covered container.)
Shred the meat from the shanks with two forks, discarding any bits of cartilage, then stir back into the broth. Discard the bones.
Cook the noodles as the label directs. Divide the broth and shredded meat among bowls, then add the noodles and roast beef. Top with the bean sprouts, basil, jalapenos and red onion; serve with hoisin sauce and/or Sriracha.