Total:

35 min

Active:

35 min
Yield:

4 servings

Nutrition Info

Nutritional Analysis

Per Serving

Calories

400

Total Fat

15 grams

Saturated Fat

8 grams

Cholesterol

75 milligrams

Sodium

976 milligrams

Carbohydrates

50 grams

Dietary Fiber

2 grams

Protein

24 grams

Sugar

3 grams
Total:

35 min

Active:

35 min
Yield:

4 servings

Nutrition Info

Nutritional Analysis

Per Serving

Calories

400

Total Fat

15 grams

Saturated Fat

8 grams

Cholesterol

75 milligrams

Sodium

976 milligrams

Carbohydrates

50 grams

Dietary Fiber

2 grams

Protein

24 grams

Sugar

3 grams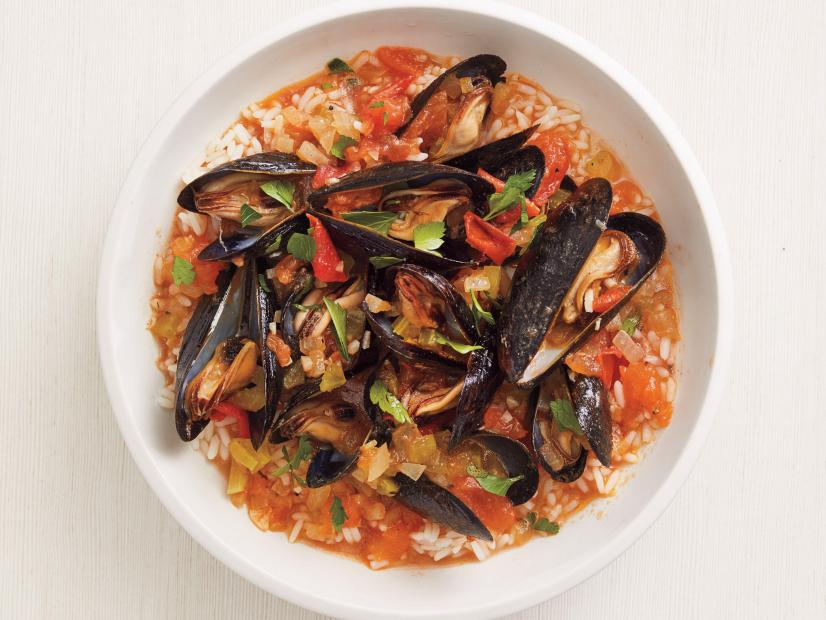 Combine the rice, 1 tablespoon butter, 1/4 teaspoon salt and 2 cups water in a saucepan. Bring to a boil, stirring occasionally. Reduce the heat to low, cover and cook until the rice is tender, about 15 minutes. Remove from the heat and set aside.
Meanwhile, melt 2 tablespoons butter in a large pot over medium-high heat. Add the onion and celery, season with salt and cook until just tender, about 8 minutes. Add the tomatoes, garlic, Worcestershire sauce and Cajun seasoning; cook until the tomatoes start breaking down, about 2 minutes. Add the wine and cook until reduced by half, about 4 minutes. Add 1 cup water and the mussels and season with salt. Cover and cook until the mussels open, 4 to 5 minutes (discard any unopened mussels). Remove from the heat and stir in the remaining 1 tablespoon butter; season with salt.
Fluff the rice with a fork and divide among bowls. Top with the mussels and broth; sprinkle with parsley.