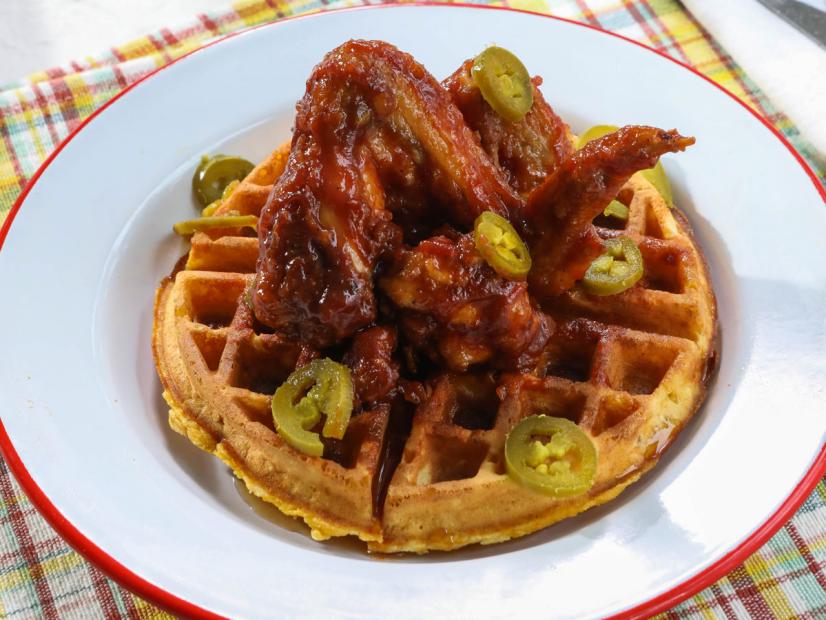 Special equipment:
Belgian waffle iron
Pour enough oil into a large Dutch oven to come about one-third of the way up the sides (it should be deep enough to cover the wings) and heat to 350 degrees F. Preheat the oven to 200 degrees F. Line 2 rimmed baking sheets with a wire rack.
Rinse the chicken wings (the water is going to help the flour stick) and place on one of the prepared baking sheets. Season both sides with 1 1/2 teaspoons salt and 1/2 teaspoon pepper. Place the flour and House Seasoning in a large paper bag and shake to combine. Add the chicken wings, 2 at a time, shaking well to coat. Return the coated wings to the same baking sheet.
Fry the wings in batches until golden brown and the internal temperature reaches 165 degrees F, 4 to 6 minutes per side. Transfer to the other prepared baking sheet.
To serve, toss the wings with the Maple BBQ Sauce. Place two wings on each Sweet Potato Waffle. Top with jalapeno slices, if desired, drizzle with maple syrup and serve warm.
Sweet Potato Waffles:
Preheat a Belgian waffle iron.
Whisk together the flour, baking powder, cinnamon and salt in a medium bowl.
In a large bowl, whisk together the buttermilk, sweet potato, melted butter, sugar, and eggs. Add the dry ingredients to the wet ingredients and stir until well combined.
Add a heaping cup of waffle batter to the preheated waffle iron and cook until the outsides of the waffle are lightly browned and cooked through, about 4 minutes, depending on your waffle iron. Remove the waffle and repeat with the remaining batter.
Miss Brown's Maple BBQ Sauce:
Stir together the tomato sauce, maple syrup, brown sugar, ketchup, soy sauce, vinegar, Worcestershire sauce, garlic powder and onion powder in a medium saucepan. Bring to a boil over high heat, reduce the heat to low and simmer, stirring occasionally, for 20 to 30 minutes. If the sauce becomes too thick, add up to 1/4 cup water. Season with salt and pepper. Use on poultry, pork, beef or seafood. The sauce will keep, tightly covered in the refrigerator, for up to 2 weeks.
Miss Brown's House Seasoning:
Stir together the garlic powder, onion powder, paprika, salt and pepper in a small bowl.
Miss Brown's House Seasoning can be made in a large batch and stored in an airtight container at room temperature for about 3 months.