Level:

Easy

Total:

1 hr 45 min
Prep:

15 min

Inactive:

30 min

Cook:

1 hr
Level:

Easy

Total:

1 hr 45 min
Prep:

15 min

Inactive:

30 min

Cook:

1 hr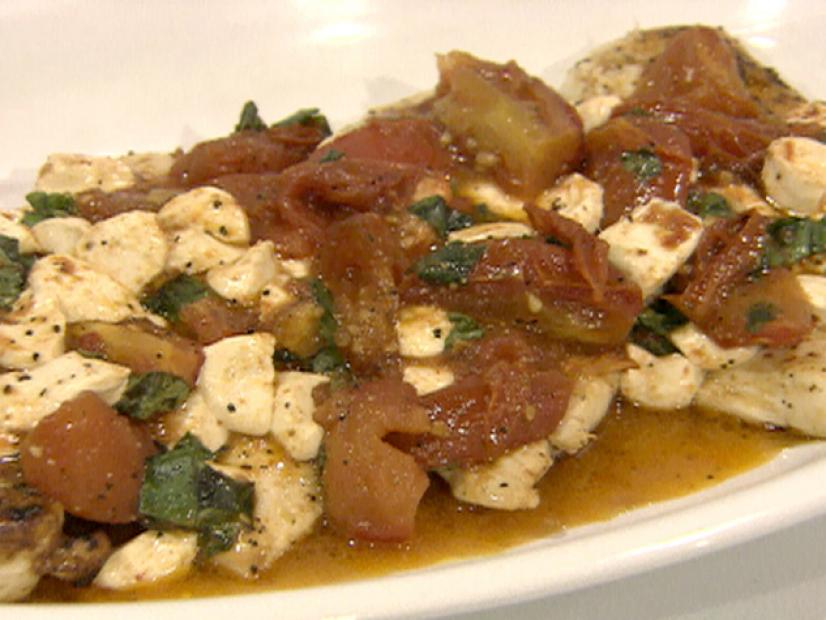 Place chicken in a 1-gallon zip-top bag. Add Lemon Vinaigrette, seal and marinate in refrigerator at least 30 minutes.
Preheat oven to 375 degrees F.
Cut each tomato into quarters lengthwise. Place in a medium bowl and toss gently with sugar, salt and olive oil. Spoon tomato mixture onto a rimmed cookie sheet so that tomato pieces don't touch. Roast for 30 minutes. Spoon tomatoes and all accumulated juices into a small bowl. Add cheese, basil leaves and pepper, tossing gently. Let sit at room temperature while chicken cooks.
Reduce oven temperature to 350 degrees F.
Remove chicken and discard marinade. Place chicken on same cookie sheet used to roast tomatoes. Roast for about 30 minutes, turning once, or until fully cooked through.
To serve, place 1 chicken breast half on each heated dinner plate. Spoon 1/4 of tomato mixture over top.
Lemon Vinaigrette:
Whisk all ingredients, except oil, together in a small bowl. Slowly whisk in oil to emulsify.